This guide will look at when prescription error compensation claims could be made. Medical professionals owe a duty of care to the patients that they treat. They should act in a way that prevents their patients from coming to unnecessary harm.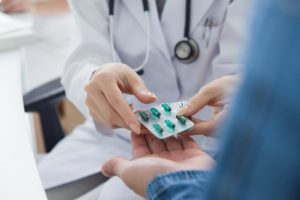 Sometimes, harm is necessaryfor the course of medical treatment. For example, a particular drug might come with side effects that are detrimental to your health and overall quality of life. However, if you need it to treat a condition you are suffering from, then this would not be a breach of duty. Therefore, you would not be able to claim.
Our advisors are ready to present you with your options and confirm if you have a valid claim. They could also connect you with our medical negligence experts if your case is valid, who can support you to make a medical negligence claim.
You may reach us in any of the ways:
Medical Errors: Choose A Section
Medication Errors – How Do Prescription Errors Happen?
Whenever medical professionals provide services below an acceptable standard, this is referred to as medical negligence. If medical negligence causes you harm, then you may be able to claim. 
Prescription errors can occur at two different stages of the prescribing process. An error could occur while writing the prescription. Alternatively, an error could occur at a pharmacy that results in a medication error.
In some cases, there might be complications arising with your medication that do not happen because of a breach of duty of care. For example, you may be prescribed a medication that you have not taken before, and so don't realise you are allergic to it.
Even if you sustained an allergic reaction that was detrimental to your health, this would not form the basis of a valid claim. This is because the duty of care you were owed was not breached.
Alternatively, there might be cases where a prescription error has come about because of another complication with your treatment. For example, your condition might be misdiagnosed, meaning that you are prescribed the wrong drug and receive the wrong treatment. If this were to happen as a result of negligence, you could claim.
If you take the wrong medication because of a prescription error, this could make you unwell. However, it could cause your original condition to worsen, too, as you're not taking the medication you need to treat it.
You may be able to claim medical negligence compensation if you were harmed because of a breach of duty of care. Speak with an advisor today for more information on making prescription error compensation claims.
Can I Claim Compensation For Medical Negligence?
Medical negligence is any situation where a doctor or qualified medical professional provides services that fall beneath the expected standard of care, thereby causing you harm. The level of harm could range from minor to severe, and in some cases could be fatal. 
You could make a medical negligence compensation claim if there is evidence that a doctor's negligence has caused you harm or worsened your symptoms. However, for your claim to be valid, you need to show that:
You were owed a duty of care

They breached the duty of care

You were harmed as a result of their negligence
Medical Negligence Claim Process – NHS
If a claim were to be made against the NHS, it would be made against the relevant NHS trust. It would not be made against the NHS as a whole, nor would it be made against the individual healthcare provider who acted negligently. 
Using legal assistance to make prescription error compensation claims may make the claims process run more smoothly. Solicitors with years of experience in GP or doctor negligence claims may help you gather the evidence needed for the claim process. Contact our advisors to see what you could do in the event of NHS negligence.
Settlements For The Wrong Prescription In The UK – How Much Compensation Could I Claim?
Every medical negligence case is unique because the injuries sustained can vary and a settlement is awarded depending on how badly your quality of life was affected. This is why there are no minimum or maximum payouts for these claims. 
Solicitors use compensation amounts from the Judicial College Guidelines to assist them in valuing your claim. 
What you can claim will depend on the pain and suffering and any financial losses the medical negligence caused you. The head of your claim that compensates you for this is called general damages. 
The compensation amounts in the table below are from the April 2022 version of the JCG. They could be used as a medical negligence claim calculator, to estimate settlements for the wrong prescription in the UK. They are only guides and may differ from the prescription error payout amount you receive.
Injury
Bracket
Notes
Kidney
£169,400 to
£210,400

Both kidneys are lost or sustain serious damage.
Kidney
Up to £63,980
Injuries in this bracket pose a significant risk of infection to the urinary tract.
Kidney
£30,770 to
£44,880

Where one kidney is lost but there is no damage to the remaining kidney
Bowels
Up to
£184,200

Medical complications will arise, alongside incontinence of both the bowels and the bladder
Bowels
Up to £150,110
Natural function will be completely lost.
Bowels
In the region
of £79,920

Fecal urgency and passive incontinence which embarrasses and causes distress in the affected person.
Bladder
Up to
£140,660

Complete loss of function and control of the bladder
Bowels
£63,980 to
£79,930

Pain and incontinence will be felt alongside an impairment of control.
Spleen
£20,800 to £26,290
Where the spleen is lost and there's an ongoing risk of internal infection because the immune system has suffered damage.
Spleen
£4,350 to
£8,640
Where none of the risks of more serious cases are present or, if they are, they are minimal.
You could also be awarded special damages. This head of prescription error compensation claims can take into account any financial impact that the negligence has had on you.
For example, if you were prescribed the wrong medication then this could impact your health to the point where you are no longer able to work. As a result, you could lose out on earnings. You could claim this back in special damages.
What Is The Cost Of Making A No Win No Fee Claim For Medication Errors?
Our medical negligence claims are funded by a Conditional Fee Agreement, which is a type of No Win No Fee arrangement. This means that you do not need to pay an upfront legal fee before we can start your claim. You also do not need to pay ongoing legal fees during the claims process. Additionally, when prescription error compensation claims are unsuccessful, claimants will not pay for their lawyers' services.
A small percentage of your compensation will go towards settling legal fees if your claim is successful. There is a cap on the percentage that can be taken. This ensures that you retain the majority of your compensation in a medical negligence claim.
Prescription Error Compensation Claims Time Limit
Generally, the medical negligence claim time limit is 3 years. This means that you need to start to make a negligence claim within 3 years of when the incident happened, or from when you became aware that your injuries were caused by negligence. 
However, there are exceptions to this medical negligence claim time limit. If you were under 18 years old at the time of the wrong prescription, a litigation friend can claim on your behalf and no time limit applies. Once you turn 18, you have 3 years in which to begin your own claim, provided one has not already been made.  
In the same way, if you have reduced mental capacity that prevents you from being able to pursue your own claim, the time limit will not apply and a litigation friend can claim for you. If you regain the capacity to claim, then the time limit will resume. Otherwise, it's suspended indefinitely. 
Call our advisors to find out if you are within the allowed time limit to start a medication error claim.
Why Make Prescription Error Compensation Claims With Medical Negligence Law?
Our advisors are able to answer your questions on prescription errors and give you more specific guidance in line with your circumstances. Get in touch with us through any of these means:
We've included more of our resources about medical negligence claims: 
If you have any more questions about making prescription error compensation claims, please don't hesitate to get in touch.
Writer Mary Mullen 
Editor Fern Strickland