In this guide, we will look at the process of making paralysis medical negligence claims. Suffering from paralysis means that you lack the ability to control movement in some or all of your body. Furthermore, you may have no (or reduced) feeling in certain parts of your body.
If you've sustained paralysis because of the negligence of a healthcare professional who was treating you, you may be able to claim. Negligence means that the healthcare provider has breached the duty of care that they owe you.
Paralysis Medical Negligence Cases Explained
Paralysis compensation can be used to cover the costs of rehabilitation, care and travel costs. It can also be used to help with the costs associated with mobility aids or modifications to your home where needed. Also, where your injuries prevent you from being able to work, you could claim for your future loss of income. As you can see, there is a lot to consider, so it's important that you get your claim right.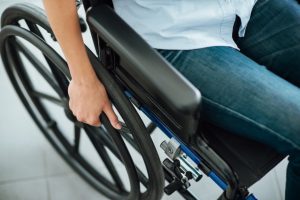 If you are considering starting a paralysis compensation claim, we could help you get started. Our specialists are able to review your claim with you during a telephone consultation.
They'll listen to how you've suffered and provide free legal advice on your circumstances. There's no obligation to make a claim but, if your case is suitable, an advisor could connect you with one of the medical negligence lawyers on our panel to look at it. If they decide to represent you, their services could be provided on a No Win No Fee basis.
Begin your claim
To discuss how we could help you start your claim, please:
Jump To A Section
Our Guide To Paralysis Medical Negligence Claims
Medical professionals have a duty of care to act in a way that prevents patients from coming to unnecessary harm. In some cases, you might be harmed as a result of medical care in a way that was not caused by negligence; if this is the case, you would not be able to claim.
However, if you were harmed because of a breach of duty of care on the part of the medical professional, you could claim compensation. This is the same whether you're claiming against the NHS or a private medical institution.
We'll look at the different types of paralysis like paraplegia and tetraplegia and how medical negligence can cause them. If we don't cover the type of injury or negligence that has affected you, don't worry. You can get in touch with our team for a free, no-obligation assessment of your claim.
If you decide that you'd like to begin a claim, you'll need to do so within the relevant time limits. For adults who have the capacity to claim themselves, the limitation period is usually 3-years from the date they were injured or the date that they became aware that negligence led to their symptoms.
If you are going to claim on behalf of somebody who can't do so themselves (for example, someone with reduced mental capacity or someone under the age of 18), the time limit could differ, so please get in touch to check.
Please carry on reading to learn more. If you have any queries whilst reading, you can get in touch with our advisors. They offer free advice about your rights to claim for paralysis medical negligence.

What Is Medical Negligence Causing Paralysis?
In order to seek compensation for medical negligence, you will need to prove that:
The treatment you received was below the standard that a healthcare professional is expected to provide.
As a result of that substandard treatment, you were injured.
It is important to prove both things to be eligible to claim. For example, if the incident that led to your paralysis was unavoidable, a claim is unlikely to proceed. For example, a difficult birth may have led to nerve damage causing paralysis in a baby, but there was nothing that the midwife could have done differently to prevent this.
Similarly, if a mistake was made during your treatment, but it didn't cause you to suffer, you also wouldn't be able to claim. You can only claim for negligence that negatively impacts your health.
We'll look at how you can prove that the level of care you received was substandard, leading to your injuries, later on in this guide. However, in our opinion, you'll find that legal representation will be very useful in helping you collect evidence in support of your claim.
Our panel of medical negligence lawyers could use their experience in these kinds of claims to help you win your case. If you're interested in making a paralysis medical negligence claim, please get in touch today. Our team are ready to review what happened and provide free legal advice.

Paralysis Medical Negligence Compensation Calculator
In this section, we are going to provide example compensation figures for some paralysis injuries. The part of your compensation that is awarded for the pain, suffering and loss of amenity caused is called general damages.
The figures we have supplied in the medical negligence settlement calculator table below are from the Judicial College Guidelines. This is a publication often used by legal professionals to help set fair compensation awards.
Although we have supplied figures, please use them as guidance as every claim is different. Once your paralysis medical negligence case has been reviewed properly, a more accurate estimate could be offered.
| Type of Injury | Severity | Settlement Bracket | Additional Information |
| --- | --- | --- | --- |
| Tetraplegia | | £304,630 to £379,100 | Mid-range settlements in this bracket could made for claimants with a 25-year life expectancy who are fully aware of their injuries and not in any pain, can see, hear and speak normally but need assistance with bodily functions. |
| Paraplegia | | £205,580 to £266,740 | The factors used to determine awards in this range include a) the extent of any pain; b) depression; c) the claimant's degree of independence; d) life expectancy and current age; e) Impact on sexual function. |
| Neck | Severe (i) | Around £139,210 | The types of injuries that result incomplete paraplegia or those causing permanent spastic quadriparesis. |
| Neck | Severe (ii) | £61,710 to £122,860 | Damage to brachial plexus or loss of movement in neck or function in one or more limbs. |
| Back | Severe | £85,470 to £151,070 | The most severe injuries to the spinal cord and nerve roots with severe pain. They can include incomplete paralysis and impaired sexual, bladder or bowel function. |
| Back | Severe | £69,600 to £82,980 | Injuries that result in loss of sensation, reduced mobility, sexual difficulties and impaired bladder or bowel function. |
| Brain | Moderately Severe | £205,580 to £264,650 | Injuries in this bracket will cause very serious disabilities which could include limb paralysis as well as cognitive disabilities. |
| Shoulder | Severe | £18,020 to £45,070 | Associated with neck injuries that involve damage to the brachial plexus. |
| Shoulder | Serious | £11,980 to £18,020 | Damage to the lower brachial plexus resulting in a weakened grip. |
It is important to prove the extent of your injuries. Therefore, you might be asked to attend a medical assessment. This will be conducted by an independent specialist.
Their role is to provide a report on what injuries you've sustained and explain your prognosis. This will be achieved by examining you, reading medical notes and discussing your injuries with you.
Special Damages
In addition to general damages, you could claim for any costs linked to your injuries. This part of your claim is known as special damages and could include:
Care costs. This could include the cost of a professional carer or an amount for the time a loved one spends supporting you.
Medical expenses. You could include the cost of prescriptions and services not offered by the NHS.
Adaptations to your home or vehicle. To help you cope with your injuries, changes to your home or vehicle might be necessary. Therefore, the cost of installing ramps, hoists, wider doors or a wet room could be claimed back.
Lost income. It might be possible to claim for the earnings you lose because of your paralysis. A number of factors will be considered including your role, current salary, job prospects and your age.
If you work with a lawyer from our panel, they will conduct a thorough review of your case. This will be done so that they can try to ascertain all of the costs you need to include within your claim. This is important to do as, once your claim is complete, you cannot go back and try to claim additional costs that were not included the first time.

Could I Make A No Win No Fee Claim For Medical Negligence Causing Paralysis?
You might think that due to the complexity of paralysis medical negligence claims, you'd like to enlist the services of a lawyer who has experience in these cases. However, you might be concerned about the prospects of paying large upfront or ongoing legal fees without any guarantee that you'll be compensated, as this could leave you out of pocket.
Our panel of lawyers provide a No Win No Fee service (also known as a Conditional Fee Agreement) to reduce the financial risk usually associated with hiring a lawyer. That means you'll still get access to specialist legal support without being presented with large legal bills.
Not all claims can be represented on this basis, however. The lawyer will need to verify the chances of success before representing you.If the lawyer is happy to proceed, they'll ask you to sign a contract. Essentially, this will show that the only time your lawyer will be paid is if they win your case and compensation is awarded.
Should there be a positive outcome, your lawyer will deduct a fixed percentage from your compensation to cover their costs. This is called a success fee and it will be agreed upon before the claim starts. By law, success fees are capped to prevent you from being overcharged.
We can check if your claim might be suitable for a No Win No Fee service during your telephone consultation. Why not call today to find out your options?

Common Causes Of Paralysis
According to the NHS, there are a number of different potential causes of paralysis. They include:
Strokes or mini-strokes. This is where the blood supply to part of the brain is cut off. If you experienced a stroke and were misdiagnosed or your treatment was delayed because of negligence, then you could be entitled to make a claim.
Nerve damage. You may undergo surgery where the negligence of a surgeon causes you to sustain nerve damage, for example, because they made an incision at the wrong point. This could affect the brain's ability to communicate with parts of the body, resulting in paralysis. You could sue  a hospital for a surgical error caused by negligence that left you paralysed.
Birth injuries. Some birth injuries can result in cerebral palsy, spinal bifida or damage to the brachial plexus resulting in partial paralysis. While in some cases these may happen even when the right level of care is administered, they could also happen as a result of hospital negligence.
Tumours. In some cases, you might have a tumour on a nerve because of head or neck cancer which prevents your brain from sending signals to certain parts of your body. If this happened because your cancer was misdiagnosed because of negligence and spread as a result, then you may be able to claim for the additional harm this caused you.
You shouldn't worry if you don't see the accident or injury that you suffered listed here. We could help with any scenario where you have been paralysed because of the negligence of a medical professional.
To find out whether we could help you to begin a claim, please contact our specialists today. We don't charge for our advice even if you don't go on to make a paralysis medical negligence claim.

Medical Errors Which Could Lead To Paralysis
Below, we've included examples of some instances that could come about as a result of medical negligence and cause you harm:
Misdiagnosis. Not all instances of medical misdiagnosis will be an example of medical negligence. For example, you might have symptoms that are very different to the ones that usually present with the condition that you have. However, if you attended your GP or doctor with clear symptoms of a condition, and they misdiagnosed you because they breached their duty of care towards you which led to you being paralysed, then you may be able to claim.
Surgical errors. Surgical errors could include wrong-site surgery, where the surgeon operates on the wrong part of your body causing damage to a nerve. Wrong-site surgery is an example of a Never Event, which means that it is always an example of negligence.
Birth injuries. Midwives, like all medical professionals, owe a duty of care both to the mother and the baby during childbirth. However, this could be breached. For example, the midwife may not be paying attention to the baby's vital signs, leading to a lack of oxygen to the brain which results in paralysis.
If you would like to find out more about claiming, please get in touch. After we have reviewed your paralysis medical negligence case, we could refer it to a specialist lawyer from our panel. If they take you on, they'll conduct a comprehensive assessment of your case to fully understand the impact of your injuries.

Types Of Paralysis
According to the NHS, paralysis is where you lose the ability to control some or all of your body. Some injuries can cause temporary paralysis while others will result in permanent damage. The parts of the body that can be affected by paralysis include:
The face.
Your hands.
One of your legs or arms (this kind of paralysis is called monoplegia).
One side of your body (hemiplegia).
Both of your legs (paraplegia).
Both of your legs and both arms (quadriplegia/paraplegia).
Additionally, the part of your body that is affected could also be:
Numb, tingly or painful.
Floppy (flaccid paralysis).
Stiff (spastic paralysis).
On top of the paralysis itself, other bodily functions can be affected. It could have an impact on bowel function, sexual function, respiratory health and urinary control.
Therefore, your claim will need to consider all of the ways in which you suffer, not just the loss of movement in the limb or body part affected. When you work with a medical negligence solicitor, they will consult your medical records to work out how you have been affected and how your injuries are likely to affect you in the future. They may also arrange for a medical assessment that you'll be asked to attend as part of the process of claiming.
If you'd like us to check if your claim could be passed to a specialist lawyer from our panel, why not call us today? One of our advisors could let you know whether you have grounds to pursue compensation.

Coping With A Paralysis Injury
The NHS states that the following may be offered to you to support you and help you live as independently as possible:
Mobility equipment. This could include a wheelchair or limb supports.
Physiotherapy. This can encourage those suffering from paralysis to maintain as much muscle mass as possible.
Occupational therapy. This is where someone looks at the tasks you find difficult and helps you adapt your home to make these easier. For example, if you find cooking difficult then they could help you with food preparation aids.
Medication. While medicine may not be able to cure paralysis, it could help ease some of the associated problems like muscle spasms, stiffness and pain.
If you work with a lawyer from our panel, they could arrange for a specialist to assess your home. By doing so, you could claim for all of the changes that will allow you to cope with the injuries caused by paralysis medical negligence.

How To Take Legal Action For Paralysis Medical Negligence
There are a number of steps involved in taking legal action for harm caused by medical negligence. They include:
Seeking medical attention. You should always seek medical attention if your health is affected to ensure you have the best chance of getting the treatment you need. If you believe that you were harmed by the negligent actions of a healthcare provider, you might wish to seek medical attention elsewhere.
Collecting evidence. You may wish to keep a diary of your symptoms. You could also collect information related to any financial impact that the incident has had on you.
Seeking legal advice. While not a requirement, working with a lawyer could be extremely beneficial to you. Their support, guidance and expertise could help the process of claiming run more smoothly than it would otherwise.
As part of your claim, something called the Bolam Test might be used to determine whether negligence occurred. This is where a panel of medical professionals in the relevant area of medicine are asked to state whether the level of care was acceptable or not.
If you would like us to review your chances of being compensated, please get in touch. If we believe the foundations of your paralysis medical negligence case are strong enough, we could connect you with a lawyer from our panel. Should they take you on as a client, they may be able to represent you on a No Win No Fee basis.
Request A Call Back
We have almost reached the conclusion of this article on claiming for paralysis caused by medical negligence. We hope that the guidance offered has been useful and informative. If you've decided that you'd like us to help you start your claim, you can:
Call us on 0800 408 7827.
Tell us about your claim via this form and we'll arrange to call you back.
Use the live chat feature on your screen now.
If you have strong enough grounds to proceed, we could refer you to a medical negligence lawyer on our panel. If they agree to represent you, they could work for you on a No Win No Fee basis.

Need Some More Help?
Thank you for reading this article on paralysis medical negligence claims. In the final section, we have listed some further resources that might help you. Should you require any additional help with your claim, please get in touch: