Are you looking to sue a hospital for negligence? This guide explains what hospital negligence could be, how you could claim and how much you could be awarded in compensation.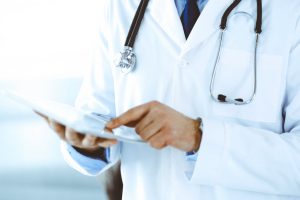 Medical negligence could potentially have serious negative effects on the patient. Their pre-existing condition could worsen, they could suffer a new illness or injury, or it could even lead to accidental death. It is important to note that not all harm suffered in a hospital is medical negligence, as some instances may still be within a medical professional's duty of care. 
Keep reading to find out more about how to sue a hospital for negligence. You can also get in touch with our team of advisors at any time. They can handle any further queries you may have and connect you with a solicitor from our panel if they think your claim has a good chance of success. 
Choose A Section
Can I Sue A Hospital For Negligence?
A breach of duty of care must have caused you harm or further harm to make a valid medical negligence claim. This article will look further at what duty of care a hospital and the people who work there could owe you. 
You could claim for related psychological damage you may have suffered, such as post-traumatic stress disorder. You don't need to have suffered a related physical illness or injury to claim for psychological damage, as long as you can prove it was caused or exacerbated by medical negligence. Types of evidence could include:
Photographs

Medical records

Relevant correspondences
You don't need a solicitor to sue a hospital for negligence, but we recommend hiring one. They can provide knowledge acquired through years of experience to strengthen your claim. 
Also, you can only claim compensation for any harm caused by medical negligence, such as a worsening condition, not the original injury or illness. 
Get in touch with our advisors today to find out more. 
Hospital Negligence Statistics
NHS Resolution is the legal branch of the NHS that handles compensation claims for medical negligence. They collate statistics each year, the most recent report showing 12,629 clinical negligence claims in the year 2020/21. This is a 7.5% increase from 2019/20. 
15,674 clinical and non-clinical claims were settled from these claims, 74.4% without court proceedings. 43.8% were settled without damages being paid to the claimant at all. 
These statistics only cover the NHS. It is also possible to claim against a private medical organisation if they caused you harm. Get in touch today to find out more. 
What Is A Hospital's Duty Of Care And How Can It Be Breached?
Within a hospital, all medically trained professionals have a duty of care toward patients to provide a minimum standard of care. If they do not do this, it could lead to harm. Departments in a hospital should be co-operating and working well together to provide a minimum standard of care. 
For example, if you attend a hospital to undergo surgery, your surgeon should communicate your needs to any nurses or doctors involved with your recovery and care. This can include any physio or medication requirements for your rehabilitation. 
Generally, if you have experienced substandard care that caused you harm, you would sue a hospital for negligence rather than the individual healthcare professional at fault. 
Examples Of Hospital Negligence
There are a variety of scenarios in which hospital negligence could occur. Depending on the cause, there could also be various consequences. Some examples of hospital negligence could include:
Never events – If the correct practices had been implemented, this event would never have happened. For example, if a surgeon amputated the wrong body part.
Misdiagnosis despite clear symptoms – You may not receive appropriate treatment or any treatment if your condition is diagnosed incorrectly or not at all. 
Medication errors caused by substandard care – This could include being prescribed the wrong medication, being given medication intended for another patient, or being prescribed the wrong dosage. 
Delay in treatment due to substandard care – This could be linked to misdiagnosis, as

your doctor

misdiagnosing you may delay your treatment. 
However, this section is not exhaustive. There could be other examples where you could sue a hospital for negligence. Contact us today to see if you could have a valid claim. 
Possible Compensation Awards If You Sue A Hospital For Negligence
You may want to know how much compensation you could actually claim if you sue a hospital for negligence. You can be compensated for both the physical/mental consequences of your illness or injury and the financial losses you may have experienced as a result of the negligence. This is known as general damages and special damages, respectively. 
The table below includes general damages compensation figures from the Judicial College Guidelines. These are not a guarantee, so you will attend a medical appointment for a more accurate assessment of your payout amount. 
| Injury | Severity | Amount | Notes |
| --- | --- | --- | --- |
| Psychiatric | Severe | £51,460 to £108,620 | There will be significant issues with life in general, including work, education and relationships. The prognosis for recovery will be poor. |
| Lung Disease | (E) | £19,510 to £29,380 | Wheezing and bronchitis that do not cause serious symptoms. There will be little to no effect on working or social life but varying levels of anxiety about the future. |
| Chest | (C) | £29,380 to £51,460 | Damage to the lungs and chest which cause some lasting disability. |
| Asthma | (D) | £9,990 to £18,020 | Relatively mild asthma-like symptoms. |
| Female Reproductive System | (E) | Around £9,570 | Failed sterilisation that leads to an unwanted pregnancy. However, there is no serious psychiatric impact or depression. |
| PTSD | Moderate | £7,680 to £21,730 | Claimant will have largely recovered and any lasting symptoms will not be entirely disabling. |
| Bowels | (B) | Up to £140,870 | Total loss of natural function with dependence on a colostomy, depending on age. |
| Hernia | (A) | £13,970 to £22,680 | Continuous pain and/or limitation on sport, employment and physical activities after repair. |
| Bladder | (C) | £60,050 to £75,010 | Serious impairment of control with some incontinence and pain. |
| Kidney | (B) | Up to £60,050 | A significant risk of future urinary tract infection or other total loss of natural kidney function. |
You can also claim for calculable future financial losses in special damages, such as a continued loss of earnings if you have had to be away from work to recover. 
Examples of what you could claim in special damages:
Travel costs

Medical expenses not covered by the NHS

The costs of care
Get in touch to find out more about how much you could claim. 
What Are The Benefits Of A No Win No Fee Agreement?
If a solicitor offers their services on a No Win No Fee basis, you don't need to worry about any upfront or ongoing solicitor fees. 
If your medical negligence claim is successful, your solicitor deducts a success fee from your compensation amount. To avoid your solicitor overcharging you, this success fee is legally capped. 
However, in the event your claim fails, you will not be required to pay your solicitor whatsoever. 
A No Win No Fee agreement can be appealing if you are struggling financially. You should know that the solicitors on our panel offer their services on a No Win No Fee basis. 
Get More Advice On How To Sue A Hospital For Negligence
If you would like free legal advice about whether you could sue a hospital for negligence, get in touch with us today. Our team of advisors can offer free and personalised legal advice about your claim. 
There is no obligation to start a medical negligence claim if you contact us. However, if you want to start a claim, our advisors can connect you with a solicitor from our panel. 
Extra Information About How To Sue A Hospital For Negligence
We hope you found our guide on how to sue a hospital for negligence helpful. For extra information and helpful resources, please see below. 
Please get in touch for further queries about how to sue a hospital for negligence. 
Guide by EM 
Editor HV