If you've been harmed by the wrong treatment, you might want to make a medical negligence compensation claim. Patients should expect a minimum standard of care. In this guide, we explore what happens when this standard of care isn't met.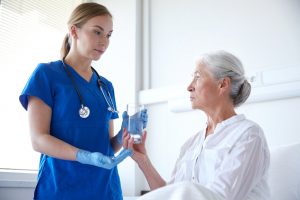 All medical procedures carry risks. We look at what you as a patient can do to minimise your risk of harm. In addition, we look at what is and what isn't medical negligence, including an explanation of the Bolam Test. Examples of what could lead to the wrong treatment due to clinical negligence are included. 
If you were harmed as a result of medical negligence, you might want to claim compensation. We look at examples of compensation payouts for medical negligence. Also, we include examples of what you could claim under special damages. 
Finally, we explore a No Win No Fee arrangement if you want to claim. You might find a No Win No Fee arrangement beneficial when it comes to funding the services of a solicitor. 
Our advisors are waiting to hear from you if you've experienced harm due to medical negligence. 
To get in touch: 
Choose A Section
Can I Get Compensation If I Receive The Wrong Treatment?
Healthcare professionals have a responsibility to their patients to provide a reasonable standard of care. However, sometimes the correct level of care isn't given. This could result in harm, such as a wrong blood transfusion treatment or the wrong cancer treatment. 
It is important that you are open and honest about your medical history and symptoms with your healthcare provider. In turn, you should expect your provider to act in a way that prevents unnecessary harm. 
If you come to unnecessary harm due to clinical negligence, you might be able to claim compensation. Our advisors can discuss the circumstances leading up to experiencing medical negligence. 
Wrong Treatment Statistics
According to the NHS Resolution Annual Report Statistics, there were a total of 12,041 settled claims in 2020/21. 
Of these: 
297 in psychiatry/mental health

640 in gynaecology

497 in general medicine

897 in general surgery

233 in paediatrics
Reasons For Wrong Medical Treatment
When you are given the wrong or inappropriate diagnosis, this is a misdiagnosis. However, this may not be the fault of the healthcare professional. Withholding information from your doctor, for example, could result in a misdiagnosis. 
There are times when your healthcare professional will make mistakes, resulting in a misdiagnosis. You could then be given the wrong medical treatment. If the wrong treatment is caused by or equates to substandard care, you may be able to make a wrong treatment claim if you were harmed. 
Causes of wrong treatment include:
Poor note-taking could lead to surgery on the wrong body part. 

Unnecessary or the wrong medications due to mis-reading a clear prescription. 

A misdiagnosis due to not reading medical records or not conducting the appropriate tests. 

Failure to take a full medical history where necessary. 
Bolam Test
To help determine if clinical negligence occurred, a 'Bolam Test' is conducted. This means that a group of similar healthcare professionals decide if they think the professional in question acted acceptably. A rare disease, for example, may have a list of symptoms very similar to that of a common infection. It may be determined that in treating the common infection, the doctor acted appropriately, even if you were harmed as a result. If, however, you were harmed by treatment that the professionals consider unacceptable, you may be awarded compensation. 
Time Limit
Typically you have three years to begin a claim. This time limit starts either on the date of the incident itself or when you gained knowledge that you received the wrong treatment. 
Time limit exceptions apply, however. Under the Limitation Act 1980 certain circumstances extend this time limit unless a litigation friend has started a claim on your behalf. 
These include:
Under the age of 18. You will have three years after you turn 18 to begin your claim. Before you turn 18, a litigation friend could claim on your behalf.
Lack the mental capacity to claim. Once you recover, you also have three years to begin your claim. However, a litigation friend could claim on your behalf before this. 
Our advisors can help start your claim if you were harmed due to clinical negligence. 
What Steps Should I Take After Receiving The Wrong Treatment?
After wrong treatment by a doctor or other healthcare professional, you might want to take certain actions. Some of these could help strengthen a wrong treatment claim. 
You could:
Seek out the correct treatment. This could include treatments to limit the harm caused. Entries in your medical records could be used as evidence. 

Make a complaint. A complaint should not have a negative impact on future treatment. 

Seek legal advice. A medical negligence solicitor could make claiming compensation seem easier. 
Free legal advice is available from our advisors. 
Estimating Compensation For Medical Negligence
You might ask 'how much can I get for a wrong treatment claim?' after experiencing harm due to medical negligence. There is no exact answer; however, we can provide examples of potential compensation awarded for general damages.
General damages and special damages are the two heads of claim and we discuss each in further detail below. 
General Damages
The injuries you suffer, along with any mental distress experienced as a result of receiving inadequate treatment are compensated through general damages. To assign value to your injuries, legal professionals use a document titled the Judicial College Guidelines (JCG).
Contained in it are injuries listed alongside their potential compensation brackets. We've included examples from the 16th edition of the JCG published in April 2022 in the table below. 
| Injury | Potential Compensation | Notes |
| --- | --- | --- |
| Foot injuries (a) | £169,400 to £201,490 | Amputation of both feet. |
| Female Reproductive System injuries | £114,900 to £170,280 | Infertility with sexual dysfunction, severe depression and anxiety, pain and scarring, such as from failure to diagnose ectopic pregnancy in a young person. |
| Epilepsy | £102,000 to £150,110 | Established Grand Mal Epilepsy |
| Bowel injury (c) | In the region of £79,920 | Urgency and passive incontinence even after surgery resulting in embarrassment and distress. |
| Kidney damage | Up to £63,980 | Total loss of natural kidney function. |
| Eye injuries | £54,830 to £65,710 | Total loss of one eye. |
| Very severe facial scarring | £29,780 to £97,330 | Severe psychological reaction from very disfiguring facial scars in young people. |
| Moderately severe post traumatic stress disorder (PTSD) | £23,150 to £59,860 | Some recovery from symptoms of a reactive trauma-induced psychiatric disorder with professional help. However, it is likely to cause significant disability for the foreseeable future. |
| Traumatic injury to digestive system (ii) | £16,790 to £27,760 | Permanent complications from a serious non-penetrating injury. |
| Body scarring | In the region of £8,640 | No significant internal injury found after exploratory keyhole surgery. |
Special Damages
You may incur additional expenses due to the wrong medical treatment. Special damages is the head of your claim that could recover these costs. You must supply evidence, however, to claim under this head, such as by collecting receipts. 
You could recover costs for:
Loss of earnings. You could recover your lost wages even if you receive statutory sick pay (SSP) or are part of a work sickness scheme, provided that you can prove you still lost earnings despite these benefits. 
Adaptations to your home and car. You might find you need a wheelchair ramp, for example, if the wrong foot was amputated. 
Medical expenses. Additional medical costs that aren't covered by the NHS, for example, therapy. 
 Estimates of what you could claim are available from our advisors. 
Can A No Win No Fee Solicitor Take Care Of Me?
If you've come to harm, you might want to claim wrong treatment compensation. The costs associated with legal representation, however, could seem intimidating. 
A No Win No Fee solicitor could take on your claim. No Win No Fee arrangements are also called a Conditional Fee Agreement (CFA). These offer a way for you to have the legal representation that might make claiming seem easier with a minimised financial risk. 
A legally capped success fee will be taken from your award, should your claim prove successful. This is instead of an upfront solicitor's fee. 
Get In Touch About A Wrong Treatment Claim
Our advisors can help start your claim today. Free medical negligence legal advice is available. They can provide an estimate of your general damages and discuss with you what evidence you could submit to claim special damages. Our panel of No Win No Fee medical negligence solicitors may look at your claim if it seems eligible. 
To get in touch:
Further Guidance About Wrong Treatment Claims
You might find the following links useful:
And more guides: 
Writer Danielle Babbage
Publisher Ruth Valdez