In this guide, we will look at how hospital negligence payouts are calculated. When you seek medical attention for any kind of injury or illness, you're entitled to a minimum standard of care.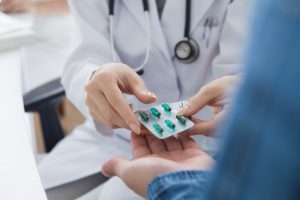 If the medical professional treating you deviates from this standard, and you're injured or your condition is made worse as a result, you might be entitled to claim medical negligence compensation.
This guide will address how compensation for medical negligence is calculated. We will also look at the benefits that a No Win No Fee agreement could offer you.
For help starting your claim, contact us today by:
Choose A Section
Could I Receive Maximum Hospital Negligence Payouts?
To make a hospital negligence claim, you must be able to prove three things:
A medical professional owed you a duty of care

This duty of care was breached

You suffered harm due to this breach of duty that you wouldn't have experienced if you'd had the right level of care
All medical professionals have a duty of care to their patients and must provide a minimum standard of care. For example, The General Medical Council (GMC) outlines the duties of a doctor. If this standard is not met and you suffer unnecessary harm as a result, you may be entitled to claim medical negligence compensation.
Generally, there is a three-year time limit for starting a hospital negligence claim, but there are some exceptions. For example:
Children under the age of 18:

For cases involving children, the three-year limit begins when they turn 18 and ends on their 21st birthday. An adult can claim on a child's behalf as their litigation friend before this point. While they are under 18, the time limit is suspended.
Cases of incapacity:

If the injured person lacks the mental capacity to claim for themselves, the time limit is frozen unless they regain the appropriate capacity. While they are unable to claim themselves, a litigation friend can claim on their behalf. 
For a more detailed estimation of what your claim could be worth, contact our team of advisors today. They can offer free legal advice on hospital negligence payouts. 
The Latest Hospital Negligence Statistics
According to reports published by NHS Resolution, the NHS received 12,629 clinical negligence claims in the year 2020/2021. This shows an increase of 7.5% from the year before.
In total, the NHS paid out £2,209 million in hospital negligence payouts in the past year. This covers compensation paid out to claimants as well as associated legal costs. 
How Does Medical Negligence Happen?
Not all mistakes made by a medical professional count as medical negligence. To form the basis of a successful claim, the harm done to you must have been caused by a substandard level of care.
For example, if your foot was crushed in a car accident and then required amputation, you could not make a claim for this. This is because, even though the amputation technically causes you harm, it's appropriate within the course of treating your condition. 
We've compiled some examples of hospital negligence in the list below:
Misdiagnosis: If a medical professional misdiagnoses you due to negligence and this causes you to receive the wrong treatment, or your treatment is delayed, you could be eligible to make a claim provided that you were harmed as a result.
Hospital-acquired infections:

If a medical professional fails to maintain hygiene standards and you acquire an infection as a result, they could be found in breach of their duty of care. Some examples of

hospital-acquired infections

include MRSA, C. difficile infections, and enterococcal infections
Surgical errors:

An example of surgical negligence could be amputating the wrong part of the body, or if a foreign object is left in the body. However, sometimes complications can arise in medical treatment even if the right standard of care is administered. You would not be able to claim if this is the case.
To find out if you are eligible to make a claim for compensation, get in touch with our team of advisors today. They can talk you through the process of claiming hospital negligence payouts.
What To Do If A Doctor Acts With Negligence
As we mentioned above, you must be able to prove that you suffered from negligence on the part of a medical professional to claim a hospital negligence payout. If you choose to hire a solicitor, they can help you with this. You can find some examples of helpful evidence you can collect by yourself down below:
Medical records:

Records that detail the treatment you received can be used to strengthen your claim. 
Prescriptions:

Prescriptions detailing medications given to you, including doses, can be used to support your case.
Symptoms diary:

Keeping a diary of any symptoms you develop due to suspected negligence can be helpful. 
Receipts, bills & invoices:

Making a note of financial losses you incur due to the harm you suffer can be useful to support a claim for the financial losses associated with your injuries. 
The Bolam test might also be used to determine whether or not the harm you suffered was caused by negligence. In this case, a group of independent professionals in the field relevant to your case will examine the choices made by the medical professionals involved, and determine if they were negligent. 
 If they decide they were negligent, and you were harmed as a result, you might be able to claim. 
How To Calculate Hospital Negligence Payouts
Hospital negligence payouts are worked out on a case-by-case basis, often with the help of a document called the Judicial College Guidelines (JCG). This document provides a list of injuries with guideline compensation brackets for each. You can find some examples of injuries and their JCG bracket in the table below.
| Injury Type | Compensation Bracket | Notes |
| --- | --- | --- |
| Less Severe Brain Damage | £14,380 to £40,410 | The injured person will have made a good recovery, and will be able to return to work and partake in social activities. |
| Established Grand Mal Epilepsy | £95,710 to £140,870 | Established grand mal epileptic seizures. |
| Moderate Post Traumatic Stress Disorder | £7,680 to £21,730 | Continuing effects will not be grossly disabling, and a good recovery can be made |
| Total Blindness | In the region of £252,180 | Total blindness in both eyes. |
| Total Deafness | £85,170 to £102,890 | Consideration given to level of speech and presence of tinnitus. |
| Female Infertility | £107,810 to £158,970 | Infertility caused by illness or disease, causing anxiety, pain, scarring and depression. |
| Loss of One Kidney | £28,880 to £42,110 | Loss of one kidney with no damage to the |
| Bladder Injuries (c) | £60,050 to £75,010 | Impairment of control with pain and incontinence. |
| Bowel Injuries (b) | Up to £140,870 | Dependence on colostomy with total loss of natural function. |
| Bladder Injuries (c) | £60,050 to £75,010 | Serious impairment of control with incontinence and pain. |
If your claim succeeds, you will receive general damages, which covers the pain and suffering caused by the negligence. However, you might also be eligible for a second head of claim called special damages. 
Special damages cover any financial losses you might have incurred due to the effects of your mistreatment. For example, if you contracted a hospital-acquired infection and became unable to work, you could potentially claim back any loss of earnings.
As we mentioned above, you must be able to provide proof for both heads of your claim. As such, it's a good idea to save any relevant bills, receipts, or invoices you collect. 
The JCG provides guideline amounts, but no guarantees. For a more detailed estimation of what hospital negligence payouts can be worth, contact our advisors today.
Are No Win No Fee Claims Better?
You do not need a solicitor to make a hospital negligence claim, but the knowledge and guidance of a No Win No Fee medical solicitor can make the process feel less stressful. 
When you enter into a No Win No Fee agreement, you don't need to pay any ongoing or upfront fees to your solicitor. If your claim is successful, your solicitor will take a previously-agreed percentage of your compensation.
This percentage has a legal limit, to ensure you get the majority of your award. However, if your claim fails, you won't need to pay any costs to your No Win No Fee solicitor.
Contact us today to find out how our panel of solicitors can help claimants receive hospital negligence payouts.
Begin A Hospital Negligence Claim With Us
 Our expert advisors are ready to help you start your hospital negligence claim. Get in touch today by:
Telephoning us on 0800 408 7827

Writing to us through our

online form

Use the live chat feature to the bottom of this screen
Further Guidance About Hospital Negligence Payouts
Here are more resources from our guides on medical negligence claims:
For more helpful information, try:
GOV.UK – Information on Statutory Sick Pay
CQC – Make a complaint about a service or provider
If you have any further questions about hospital negligence payouts, speak with our team of advisors today.