Do you need to make a claim after being given unnecessary medical treatment as the result of negligence? Did a GP, NHS hospital, or private clinic perform a procedure on you that was not called for as the result of a breach of duty of care? If so, this guide may be able to help you make an unnecessary treatment claim for the harm you experienced.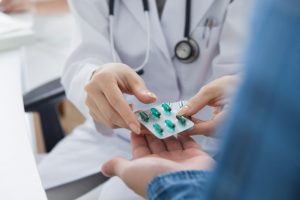 When you seek attention from a medical professional, you are entitled to a minimum standard of care. This means that they have to act in a way that prevents you from coming to unnecessary harm. If they breach this duty of care and cause you to have a treatment you don't need that causes you harm, you could claim.
At Medical Negligence Law, our team is on hand right now to help you start a claim. We could connect you with a member of our panel of medical negligence solicitors and start your compensation claim today if you have valid grounds to do so. Simply:
Call us on 0800 408 7827
Use the 'live support' option for immediate help
Choose A Section
Can I Get Compensation After Receiving Unnecessary Medical Treatment?
Everyone who seeks medical treatment in the UK is entitled to receive a minimum standard of care from the hospital or healthcare provider who treats them. Healthcare providers all have a legal duty of care to act in a way that stops any patient in their care from coming to unnecessary harm.
Obviously, many medical procedures can carry a risk, and doctors or surgeons cannot be blamed for unexpected or adverse reactions in their patients if they acted in full accordance with expected standards. Furthermore, there are some situations (for example, administering chemotherapy) where a doctor must cause their patient necessary harm in order to treat their condition.
However, additional or unneeded treatments may be considered negligence if the medical professional breached the duty of care that they owed their patient. For example, a medical misdiagnosis that resulted from negligence could result in unnecessary limb amputation.
Therefore it's essential that all GPs, doctors, nurses pharmacists, and surgeons follow procedures correctly and pay close attention to their duty of care. If they fail in this, it could be considered medical negligence and you could be entitled to medical negligence compensation for the pain and suffering it causes.
Unnecessary Treatment Statistics
According to research by the British Medical Journal (BMJ) for the period January 2000 to January 2019:
The prevalence of preventable patient harm was 6% in 70 studies involving 337,025 patients.
A pooled proportion of 12% of preventable patient harm found it was severe or led to death.
Incidents related to medication and other treatments accounted for the largest proportion of preventable patient harm
Preventable patient harm was more common in advanced and specialist medical settings rather than in hospitals.
Around one in 20 patients were exposed to preventable harm in medical care.
Situations That Could Lead To A Medical Misdiagnosis
Whilst not all health care complications are automatically caused by negligence on the part of the health care provider, there are minimum standards expected of them in each area of medicine. If they fall below that standard, it may be classed as medical negligence. In instances where it can be difficult to determine this, a Bolam Test can be called for.
A Bolam Test asks a panel of medical practitioners in the same area of medicine if they would have taken similar steps in the delivery of patient care. If the answer is 'no' it can be classed as medical negligence.
Medical negligence can arise in a number of ways:
Surgery on the wrong part of the body ('wrong site' surgery)
Unnecessary root canal or dental work
Administering unnecessary medication or procedures due to mistaken identity issues
Incorrect diagnosis
Failure to consult medical notes
Failure to read or interpret an x-ray or scan correctly
Time Limits
Usually, there is a 3-year time limit to starting a medical negligence claim for unnecessary medical treatment. This period can start from:
The date of the incident; or
The date of knowledge (when you became aware that the treatment you received was unnecessary)
There are some exceptions to this time limit, however. Speak with an advisor for more information.
What Can I Do If I Had Unnecessary Medical Treatment?
In the aftermath of receiving unnecessary medical treatment, there are some practical steps that you can take which we have detailed below:
Ensure that you receive the correct medical attention
Access your medical notes
Raise a complaint for NHS negligence or the negligence of a private clinic
Ask any witnesses to the negligence or its effects if they would be willing to give a statement at a later date. Collect their contact details if so.
Start to collect and retain any receipts or bills that show costs to you caused by the medical negligence
Collect relevant CCTV footage or photographs that could be used to support your claim
Consider seeking legal advice about how to make a medical negligence claim
An advisor can offer you valuable legal advice free of charge, which means that they might be able to offer you guidance on what evidence could support your claim. What's more, if you have a valid claim, you could be connected with a No Win No Fee solicitor from our panel who can help you sue a hospital or other healthcare provider.
Medical Negligence Compensation Examples
It's difficult to produce a minimum or maximum payout for medical negligence as each case is assessed on it's own merits. The table below is an index of guideline compensation brackets from the Judicial College Guidelines. They represent general damages payment, which is the part of your compensation that aims to acknowledge the pain, suffering, and loss of amenity associated with an injury.
| Area of injury | Severity | JC Guidelines | Notes |
| --- | --- | --- | --- |
| Infertility in a woman | Infertility (b) | £31,950 to £95,850 | Failure to diagnose ectopic pregnancy resulting in complications |
| Eyes | Loss of sight (g) | £8,550 to £19,690 | Permanent damage in one or both eyes |
| Hearing | Loss of hearing in one ear (c) | £29,380 to £42,730 | Headaches, tinnitus or dizziness |
| Bladder | (a) | Up to £172,860 | Double incontinence and loss of function |
| Kidneys | Serious (a) | £158,970 to £197,480 | Permanent and serious damage to both or one kidneys |
| Chest | (f) | £2,060 to £5,000 | Collapsed lung with recovery |
| Non-traumatic injury to the digestive system | Severe toxicosis (b) (i) | £36,060 to £49,270 | Need for hospital admission, acute pain, vomiting and fever |
| Bowels | (b) | Up to £140,870 | Need for colostomy and loss of natural function |
| Hernia | (a) | £13,970 to £22,680 | Continued pain and loss of physical activity |
| Skin | Dermatitis (a) | £12,900 to £18,020 | Cracking and soreness, psychological impact |
You may need to attend a medical assessment with an impartial GP or doctor who will create a report based on your condition. This will then help to determine how much your claim is worth.
In addition to this, you can use proof of out-of-pocket expenses to calculate the special damages head of your claim. This could include:
Additional medical bills
Loss of earnings
Adaptations to your home or car
Long term health needs like counselling or physiotherapy
Travel expenses like petrol or parking for essential journeys
Why not get in touch with our team to see what other associated costs you could include to calculate your potential negligence payout for unnecessary medical treatment? Our advisors are on hand to provide you with free legal advice today.
Do No Win No Fee Solicitors Handle Clinical Negligence Claims?
A No Win No Fee or Conditional Fee Agreement is a contract in which you and a medical negligence solicitor can start a claim quickly and easily. After an initial assessment, a solicitor from our panel could take up your case at no initial fee to you and they won't ask you to make any payments as the claim progresses.
If the case succeeds, there is a maximum of 25% amount due to cover the solicitor's costs. This comes from the settlement amount. If the case is not successful, under the terms of a No Win No Fee agreement there is nothing owed to your solicitor at all.
Make An Unnecessary Medical Treatment Claim
No Win No Fee legal representation could help you start an effective claim for unnecessary medical treatment caused by negligence today. A professional can negotiate a settlement on your behalf with your best interests in mind, allowing you to concentrate on getting well. With this in mind, why not get in touch to see how we could help you?
Call us on 0800 408 7827
Or use the 'live support' option to find out more
Further Information About Unnecessary Medical Treatment Claims
Below are some supporting resources to help with your unnecessary medical treatment claim:
Learn more from our guides:
Guide by FS
Editor NS