This guide will explore when you might be able to claim following medication errors by nurses that have caused you avoidable harm. All medical professionals must provide care that meets the correct standard. If this standard is not met, it is known as medical negligence. If medical negligence causes you harm, you may be eligible to claim.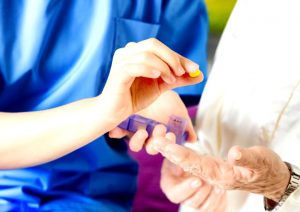 In this guide, we will provide information on the steps you could take following an incident of medical negligence that has seen you sustain harm, including the evidence you could gather to support your potential claim. 
Furthermore, we will explore what your settlement could comprise if your claim is successful and how it's often calculated.
If you need any other information on whether you could claim after medication errors in healthcare, our team of trained advisors can answer any questions that you may have about the medical negligence claims process. To get in touch, you can:
Contact us

through our website 

Talk to an advisor about your claim via the live chat feature below

Call us on

0800 408 7827
Choose A Section
Medication Errors by Nurses – What are They?
Medication errors are known as a Patient Safety Incident that involves an error with the process of prescribing, preparing, dispensing, administering or monitoring medication. It can also involve errors made when providing advice on medicines.
Nurse practitioners are able to administer medication that has been prescribed by a qualified medical practitioner. Additionally, prescribing nurses are able to prescribe medication.
All medical professionals, including nurse practitioners, have a responsibility to provide the correct standard of care. However, there may be some cases where this doesn't occur. If this is the case, then you could sustain harm as a result of negligence, including medication errors. This could lead to a new injury or illness, or the worsening of a pre-existing condition. 
However, not all incidents of medication errors by nurses can form the basis of a valid claim. You must prove that medical negligence caused you harm. If you need any information about the claims process or whether you're eligible to seek compensation, get in touch with one of our advisors today.
Examples of Medication Errors 
Below, we have provided examples of how medication errors could occur:
Wrong medication: A nurse practitioner may administer you with a medication that was meant for another patient while you're in hospital. As a result, you may experience complications due to taking the wrong medicine. 
Prescription error: A prescribing nurse might log the incorrect dosage on your prescription before sending it over to the pharmacist. The outcome of this could be that you might experience an overdose. 
Admin errors: You may have received someone else's medication due to an administrative error.
If you have experienced medical negligence that has caused you harm, get in touch to see if you could seek compensation.
How Often Do
Medication Errors by Nurses
Occur?
Although we are unaware of how many were caused by nurses, we do have information about how many medication errors occur on an annual basis.
NHS Resolution received 1,420 claims that related to errors in the medication process during April 1 2015 to 31 March 2020 . 487 of these claims were settled and damages paid. The total amount of costs for these claims came to £35 million, this wasn't including the legal costs. 
Why is Duty of Care Important When Claiming for Medical Negligence?
When we discuss medical negligence cases, we often refer to a medical professional's duty of care.
All medically trained professionals have a responsibility to meet the correct standard of care when treating their patients. This extends to nurse practitioners and prescribing nurses. It's important when making a claim following medication errors by nurses that you can prove they breached the duty of care they owed you and caused you harm as a result. You can do this by gathering evidence to support your claim. We have explored this further in the following section.
Additionally, when assessing whether a medical professional provided care that met the correct standard, the Bolam test may be carried out. This involves a group of relevantly trained medical professionals assessing your case to see if the care you were provided fell below the minimum standard. The findings from their investigation can be used to determine whether negligence caused you harm.
Contact one of our advisors today for more information about proving that the duty of care you were owed was breached.
Top Tips When Claiming for Medication Errors by Nurses
As you begin your claim for medication errors by nurses, you might be wondering what the process is or how you could gather evidence to support your claim. Evidence you could gather includes:
Medical records, such as hospital or doctor reports

Prescriptions

A diary of your symptoms, recording any treatments that were provided
Additionally, you may be asked to attend an appointment with an independent medical professional. This can provide a report on the extent of the harm you sustained and the impact it will continue to have in the future. The report may also be used to help value your claim.
Furthermore, you may find it beneficial to seek legal representation. A solicitor could help you collect relevant evidence and take you through each stage of the claims process.
If you require any additional information on the claims process for medication errors by nurses, contact us today.
What Potential Compensation Could You Receive From a Medical Negligence Claim?
The Judicial College Guidelines (JCG) is a document often used by solicitors and lawyers to assess the value of the general damages portion of settlements. General damages compensate for the pain and suffering of the physical or psychological harm that you have sustained as a result of medical negligence. 
We have included a table using figures from the JCG. However, you should only use them as a guide because other factors are considered when valuing general damages.
Injuries
Compensation brackets
Description of injuries
Very Severe Brain Damage (a)
£282,010 - £403,990
The injured person will require full time care and suffer from sensory impairment, physical limitations and little to no language function as well as other issues.
Kidney (a)
£169,400 - £210,400
Both of the kidneys have been lost or sustained a serious amount of permanent damage.
Kidney (b)
Up to £63,980
The risk of infection, such as a urinary tract infections or other complete loss of natural kidney function is significant.
Kidney (c)
£30,770 - £44,880
Where one kidney is lost and the other isn't damaged.
Bladder (b)
Up to
£140,660

The total loss of all function and control.
Deafness/ Tinnitus (b)
£90,750 - 109,650
Complete deafness
Deafness/Tinnitus (c)
£31,310 - £45,540
There has been a complete loss of hearing in one ear.
Reproductive System: Male (c)
£43,010 - £88,750

Cases involve impotence or sexual dysfunction which is significant and likely to be permanent.
Reproductive System: Female (g)
In the region of
£10,200

Sterilisation has failed and led to an unwanted pregnancy. However, there is no serious psychological affect.
Spleen (b)
£4,350 - £8,640

There will be no or minimal risk of and ongoing internal infection or other disorders.
For more information on seeking medical negligence compensation, call us on the number above.
What Other Damages Could You Claim For After Medication Errors?
Special damages is to compensate you for any financial loss that you incur due to the harm you sustained as a result of medical negligence. 
The financial impact a medical negligence can affect both current and future situations. As such, monetary losses you could claim include:
Loss of earnings 

Childcare costs

Medication expenses 

Travel expenses 

Modifications to the home

Mobility aids
However, you should provide evidence of the losses, such as payslips, invoices and receipts.
No Win No Fee Solicitors – Why Are They Useful?
A solicitor from our panel can provide you with a No Win No Fee service known as a Conditional Fee Agreement (CFA). This is a way to fund legal representation. 
Under a CFA, no payable costs will be required for the services your solicitor provides if your claim is unsuccessful. If your claim succeeds, you will need to pay a success fee from your compensation. This fee is subject to a legal cap.
Contact us today to find out whether you're eligible to have a solicitor from our panel represent your case on this basis.
Contact Us For A Free Consultation Today
For more information on whether you're eligible to claim for harm you sustained due to medication errors by nurses, you can talk to one of our advisors today. To get in touch, you can:
Contact us

through our website 

Talk to an advisor about your claim via the live chat feature below

Call us on

0800 408 7827
More Information About Claiming For Medication Errors By Nurses
If you need any more information on medication errors by nurses or other healthcare professionals, speak to one of our advisors today.
Writer Lizzie Walsh
Editor Meg Mill