Deaths from medication errors can be difficult to deal with. Losing a loved one can be a stressful time, especially when it was unexpected and caused by medical negligence. This guide will explain how you can make a claim in these circumstances.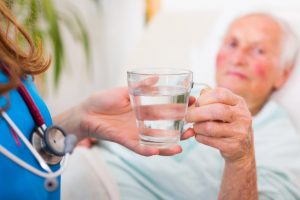 If the fatal injuries could have been prevented by the medical professional providing the right level of care, and you have supporting evidence to prove it, you may be able to claim. We will further explain what evidence you can provide and supply examples of compensation brackets that are used to help value claims.
Our solicitors can work with you to build a strong case and make the claims process as stress-free as possible. Continue reading to learn about making a death from medication errors claim. Alternatively, you can contact us using the following details:
Choose A Section
Deaths From Medication Errors – How To Claim
Healthcare professionals are legally obliged to ensure all patients receive the right standard of care. If they fail to deliver this standard of care, then this could result in additional harm or a worsening of the patient's condition. In some cases, this can then result in death. 
Compensation for medical negligence resulting in death can be made up of two heads: general and special damages. We will look into these further in this article. You must provide evidence in order to make a claim for either of these damages. We will take a look at the kinds of evidence that can be used to support a claim. 
Claims cannot be made for medical negligence if the healthcare provider gives care of the right level, even if harm is caused. In many cases, medication that you need to take might have an undesirable side effect; however, you would not be able to claim for this.
Sometimes, complications can arise when medication is administered even though you've been given the right level of care. For example, you might have an unknown allergy to a particular drug, and it makes you ill. You may be unable to claim as the allergy was unknown. 
In some cases, being prescribed the wrong medication could be an example of the wrong treatment being administered because of another error in the treatment process. For instance, you might be given the wrong medication because you were previously misdiagnosed. You might be able to claim if the initial misdiagnosis resulted from negligence.
You can contact our advisors for more support on how to make a medical negligence claim. Our advisors can also offer advice on how to report medication errors. 
Examples of Fatal Medication Errors
Medical negligence can occur in various ways. Examples could include:
Receiving the

incorrect prescription

because a pharmacist picks up the wrong bottle from the shelf to give to you. 

Getting the incorrect medication prescribed by a

doctor

. For example, the doctor might mix up the names of two drugs that sound similar and give you a prescription for the wrong one. 

Administering the wrong

dose of medication. Receiving an incorrect dose of morphine can lead to shock and a heart attack with fatal consequences, for example. 
Medical negligence must have occurred in order for you to make a claim for a death from medication errors. Maximum payouts will depend on aspects such as injured persons' awareness of what was happening before their death. 
How Often Do Deaths From Medication Errors Happen?
The NHS supplies information on learning from medication errors. It shows examples of cases that are ongoing for medical negligence claims within the company. Between 1st April 2015 and 31st March 2020, 1,420 claims were made against the NHS for fatal medication errors. You can see the breakdown of these cases in the graph below.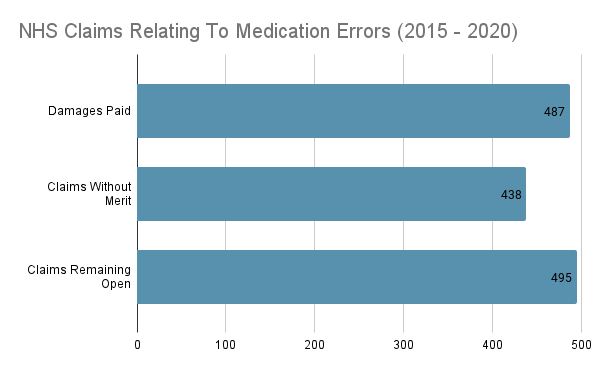 The total damages paid in these closed claims came to £10,419,396. To prevent medication errors, the NHS discusses key ambitions to improve the safety of patients and reduce harm.
Who Makes The Claim In A Fatal Accident Case?
There are two pieces of legislation in place that allow fatal accident claims to be made following deaths from medication errors. These are the Law Reform Miscellaneous Provisions Act 1934 and the Fatal Accidents Act 1976. 
The Fatal Accidents Act 1976 allows qualifying relatives to claim compensation for the negative effects on them following the death of their loved one. The Law Reform Miscellaneous Provisions Act 1934 allows the estate of the deceased to claim for their pain and suffering. Usually, claims will cover compensation pursued under both of these pieces of legislation.
We can define a dependant as:
A current or former married partner. For example, a wife, husband, or civil partner.

A parent or other ascendants to the deceased.

The child or other descendant of the deceased. This covers stepchildren from current and previous marriages.

The sister, brother, uncle, or aunt of the deceased.
For more information on when claims for deaths from medication errors could be made, speak with our team.
What Evidence Could Be Used For A Fatal Accident Claim?
Gathering as much evidence as possible to make death from medication error claims is important. Relevant evidence could be:
Witness statements. Collect contact details so that a statement can be taken later. 

Copies of scans, medical reports, and doctors' notes.

Diary entries of treatments and symptoms. This can highlight the physical and mental state of the deceased before and after the

medication error

.
Alongside gathering evidence, you should also start the claims process as soon as possible. The Limitation Act 1980 states that there is a three-year time limit to start your claim. This is from the date of receiving the incorrect medication or from the date of knowledge that the medication error caused the death.
Contact our advisors if you have any concerns or are unsure if your claim is valid. We can answer any queries you may have about deaths from medication errors claims and can help you start the claims process.
Deaths From Medication Errors – Compensation Payout Examples
The Judicial College Guidelines (JCG) display medical negligence compensation brackets for general damages. This includes any physical and psychological damages sustained as a result of third-party negligence. You can also claim for special damages which relate to any financial losses sustained.
We've included some examples of general damages listed in the JCG below that may relate to your claim. Please note that the following figures are a guideline. 
| Injury | Compensation | Description |
| --- | --- | --- |
| Fatality Plus Add-On Claims | Up to £550,00 and over | Compensation awards can relate to the deceased person's pain and suffering and losses affecting the dependants.  |
| Quadriplegia/Tetraplegia | £324,600 - £403,990 | The injured person will not be in physical pain but has full awareness of their disability. They require assistance with bodily functions and struggle to communicate. |
| Paraplegia | £219,070 - £284,260 | The level of award will depend on the presence and severity of pain, age and life expectancy, and degree of independence. |
| Very Severe Brain Damage | £282,010 - £403,990 | Injuries will affect life expectancy, ability to communicate, and physical limitations. |
| Severe Psychiatric Damage | £54,830 - £115,730 | Vulnerability will continue into the future with poor prognosis and effects on the ability to cope with life. |
| Severe Post-Traumatic Stress Disorder (PTSD) | £59,860 - £100,670 | The effects will be permanent, preventing the injured person from functioning at a pre-trauma level. |
Contact our advisors for a more accurate estimate of what deaths from medication errors claims could be worth.
What Else Could You Claim For In A Fatal Medical Negligence Claim?
There are other losses you can claim in a fatal medical negligence claim. For instance:
A bereavement award of £15,210. This can only be claimed by certain qualifying relatives. If more than one person who is eligible for this payment wishes to claim it, they will each receive an equal portion of it. 

Loss of consortium. This accounts for the loss of companionship or familial relationship.

Past and future earnings of the deceased that the claimant relied on.

Funeral costs.
You can speak to our advisors for more support regarding what you can claim.
How Can Fatal No Win No Fee Solicitors Help?
No Win No Fee medical negligence solicitors can provide you with legal representation without requiring any costs upfront or for the duration of your claim. If you are unsuccessful in receiving compensation, there are no fees to pay for their services.
They only request a legally-capped success fee at the end of a successful claim, which they will take from your total settlement. The legal limit to this percentage always ensures you get the majority of your settlement. 
Our advisors may be able to put you in contact with a No Win No Fee lawyer with experience in deaths from medication errors claims. Get in touch today to see whether you have a valid case. 
See If You Can Claim For Free Today
If you have any questions about anything included in this guide, our advisors are available to help. Our team is available 24/7 to offer you free legal advice and help you start the claims process.
Deaths From Medication Errors – More Information
We've included some sources to help provide further guidance on deaths from medication errors claim.
You can read about the role of a litigation friend on the government website.
A General Medical Council prescription error report looks at the causes of these errors. 
The NHS release key statistics relating to the work they do.
Thank you for reading. You can see more of our guides here:
Writer Jess Arkinsaw
Publisher Fern Strickland