In this guide, we will look at how the process of claiming for dispensing medication errors works. All medical professionals owe their patients a duty of care, including pharmacists who are responsible for dispensing medication.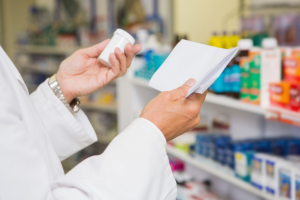 If a pharmacist breached this duty of care, resulting in a dispensing error that caused you harm, then you could be entitled to claim compensation. This guide will highlight what could make you eligible to claim and how much compensation for dispensing errors you may be able to receive.
You can also connect with a solicitor from our panel to work with them on a No Win No Fee basis. Continue reading this guide to learn more about working with medical negligence solicitors in a claim. Alternatively, you can call our advisors for free expert legal advice using the details below: 
Choose A Section
What Are Dispensing Medication Errors?
Medical negligence is where a medical professional has breached the duty of care that they owe you, causing you harm. You may be able to seek compensation if certain criteria are met.  
A medication error can take place at any time during the process of providing the patient with medication. This article will focus on errors made in the dispensing stage of the process; however, you might be eligible to claim for other kinds of prescription errors. A dispensing error is any discrepancy between the medication that is prescribed and the medication that is dispensed to the patient. 
Some instances of dispensing medication errors may not be due to a breach of duty of care. In some cases, a dispensing error could occur even when the right level of care has been administered. 
Similarly, dispensing errors may not always cause harm. You can only claim compensation if a breach of duty of care has caused you to experience harm. If one occurred, but your health was not negatively affected, then you would be unable to claim.
If you're unsure about the process of claiming for medical negligence, why not call our advisors today? Our team are available to answer any questions you may have.
What Can A Medication Mistake Result In?
Medication dispensing errors have the potential to cause harm. This harm can range from relatively minor to serious, and in some cases, a medication error could result in death.
Some examples of causes of dispensing medication errors can include:
A medical professional at your pharmacy mislabels the dosage to be taken of an anticoagulant, causing you to unknowingly take an overdose. This dosage error means that you experience excessive bleeding and need to seek medical attention. 
Your pharmacist picks up the wrong medication from the storeroom that has similar packaging to the medication you were prescribed. This means that you experience delayed treatment for your condition, as the drug you've taken is not effective. 
In a pharmacy in a hospital, you are given medication that was intended for another patient with the same name because they failed to check any other of your information.
Contact our advisors today for more support on claiming medical negligence compensation. They can offer you free legal advice on the process of claiming for harm caused by medical negligence. 
Who Is Liable for Dispensing Medication Errors?
Medication errors in healthcare can be the responsibility of a number of different kinds of medical professionals. The kind of pharmacy responsible for the breach could affect who the claim is made against.
For example, if the pharmacy that was responsible for the dispensing medication error was an independent pharmacy, then a claim could possibly be made against the relevant organisation.
On the other hand, if an error made in a pharmacy attached to an NHS hospital were to occur, causing harm, then a claim could potentially be made against the relevant NHS Trust.
Evidence is crucial to support your claim and could ensure that you receive the maximum compensation you're entitled to. See below for more detail on what you can provide to strengthen your dispensing medication errors claim.
What Evidence Can Be Used in a Pharmacy Negligence Case?
You should provide evidence when making a medical negligence claim. Evidence will ensure that your compensation reflects the full scope of harm you experienced as a result of medical negligence.
Examples of how you could prove a medication error claim include:
Statements from witnesses

Copies of prescriptions 

Photos of your injuries

Medical records, including hospital reports and doctors' notes
You should begin your compensation within the established limitation period. This is generally three years from the date of the incident or from the date you connected your injuries with negligence. Exceptions can apply, however.
We recommend starting your claim as soon as you can if a dispensing error caused by negligence has harmed you. Failure to do so could mean that certain kinds of evidence are more difficult to obtain than they would have been if you collected them at the time.
You can call our advisors today to hear more about collecting evidence and the exceptions that can apply to the medical negligence claim time limit. 
How Much For Wrong Medication? – Potential Compensation Amounts
Claims for dispensing medication errors, like all other kinds of medical negligence claims, have the potential to be split into two heads. General damages compensate you for the pain and suffering that your illness, injury or worsening condition has caused you. This includes psychological repercussions as well as physical ones. 
Legal professionals can use the Judicial College Guidelines (JCG) to help them value the general damages portion of compensation settlements. We've provided some examples below that may help you understand what your claim could be worth.
However, these amounts are a guideline. Due to the complexities of each case, a personalised estimation can give you a more precise valuation of your claim. You can contact our advisors today for more information.
| Injury | Compensation | Description of Injury |
| --- | --- | --- |
| Total Blindness and Deafness (a) | In the region of £403,990 | The most devastating injuries. |
| Total Blindness (b) | In the region of £268,720 | Injuries resulting in complete loss of sight. |
| Kidney Injury (a) | £169,400 - £210,400 | Permanent damage to both kidneys causing serious effects. |
| Kidney Injury (b) | Up to £63,980 | Injuries cause a significant risk of infection and other loss of function. |
| Kidney Injury (c) | £30,770 - £44,880 | One kidney is lost with no damage coming to the other. |
| Bowel Injury (a) | Up to £184,200 | Cases include complete bowel function loss with many medical complications. |
| Bowel Injury (b) | Up to £159,110 | The injured person's age will affect the award level. Injuries will include total loss of natural bowel function. |
| Bladder Injury (a) | Up to £184,200 | Injuries cause multiple medical complications and loss of natural bowel function. |
| Bladder Injury (b) | Up to £140,660 | The injured person suffers a complete loss of control of the bladder. |
| Bladder Injury (c) | £63,980 - £79,930 | Pain and incontinence alongside serious impairment. |
What Other Compensation Could I Receive From Dispensing Medication Errors?
Special damages reimburse you for financial losses that you've experienced as a result of medical negligence. This can include:
Loss of earnings

Travel expenses

Prescription costs and further medical bills

The cost of mobility aids, for example
Evidence is important in ensuring that you get the full amount of compensation your claim is worth. For example, you could show payslips or bank statements to illustrate lost earnings or invoices to show that you have had to spend money on home adaptations.
Our advisors are available at any time that suits you to help you with starting the claims process. If you'd like free legal advice about claims for dispensing medication errors, why not get in touch? 
Why Use No Win No Fee Solicitors To Claim? 
Our medical negligence solicitors can work with you with a Conditional Fee Agreement (CFA) in place. This form of No Win No Fee agreement allows you access to a solicitor's services without any upfront or ongoing fees. There are also no solicitor costs to pay if your claim fails.
At the end of a successful claim, you will pay your solicitor a legally capped success fee, which they will take from your settlement total. The legal cap that applies to this means you cannot be overcharged. 
Our advisors can connect you with a solicitor from our panel if there is a chance of success from your dispensing medication errors claim. Contact us today to learn more.
Want a Free Consultation to See If You Can Claim?
You can discuss No Win No Fee agreements with our advisors, alongside any other details about the claims process. You can reach our team using the following details:
Learn More About Claiming For Dispensing Medication Errors
See the following external links to assist you with your claim.
We have listed more of our guides below: 
Call our advisors today if you would like guidance on dispensing medication errors.
Writer Jess Arkinsaw
Publisher Fern Strickland