In this guide, we will look at the process of claiming for harm caused by medication dosage errors resulting from negligence. We will discuss some of the requirements that could make you eligible to make this type of claim.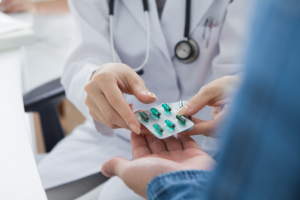 Patients are owed a duty of care by medical professionals. This means that doctors, nurses, surgeons and other similar professions must provide an adequate standard of care. If the standard you are provided falls below the correct level and you experience avoidable harm as a result, you may be able to make a medical negligence claim.
Read on to receive more information about medication and dosing errors. Additionally, if you would like to speak to someone directly, you can get in touch with our team of advisers:
Use the live chat feature below to speak to an adviser
Call us at 0800 408 7827
Get in touch using the contact us form
Choose A Section
What Are Medication Dosage Errors?
Dosage errors could happen in settings such as hospitals, care homes, or pharmacies. This kind of error involves a patient receiving the correct medication but in the wrong dosage. For example:
A doctor injects the wrong dose of antibiotics following an operation
A pharmacist makes a dispensing error, providing the correct medication in the wrong dosages
A nurse records a patient's weight incorrectly, leading to them writing a prescription based on the wrong information. This prescription error means that the patient receives an incorrect dosage
 A GP fills out a prescription incorrectly because they were thinking about something else. As a result, you take too low a dose of the medication prescribed for you and it's ineffective.
You may be able to claim compensation for medication errors in healthcare if you suffer harm as a result, and if you can prove the mistake happened because a medical professional was negligent. The harm experienced can vary; for example, your medication could be ineffective because the dose you have been given is too low, which means you undergo unnecessary and avoidable medical treatment because your condition has progressed. Deaths from medication errors could occur if the dose given is too high and an overdose occurs.
Read on to learn more, or contact us to discuss claims that may result from medication dosage errors.
Potential Injuries from Wrongly Prescribed Medication
Medication errors could lead to a range of different consequences. For example, your condition might remain untreated for longer than it would have if you'd received the right level of care.
It is important to note that not all circumstances will form a valid basis for a claim. For example, you cannot claim if a medication makes you sick, but you were given the correct standard of care. This is because a doctor may need to prescribe certain medications in order to treat a condition, even if those medications make you feel sick due to side effects.
During the course of the claims process, the Bolam test may be carried out. This involves a panel of relevantly trained medical professionals stating whether they believe the correct standard of care was provided to you.
Our team of advisers can provide more information about how medication dosage errors could lead to a medical negligence claim. Get in touch for free legal advice.
Medication Dosage Errors – How Often Do They Happen?
The British Medical Journal (BMJ) has undertaken original research on the number of medication errors that occur each year in England. According to their findings, there are 237 million medication errors annually.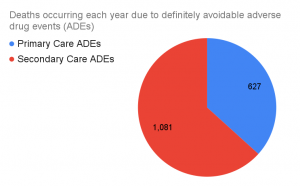 This data reflects all medication errors, not only mistakes related to dosages.
Who Is Responsible For Medication Errors? – The Importance of Duty of Care
In order to claim for the avoidable harm you suffered, you must be able to show that negligence took place. This involves checking to see if three criteria were true of your circumstances:
A medical professional owed you a duty of care
This duty of care was breached in some way
Because of this breach, you suffered physical or emotional harm that otherwise would have been avoided
The ways that medical professionals should act to deliver the right standard of care can vary. For example, the duties of a doctor are set out by the General Medical Council. The General Pharmaceutical Council set out the responsibilities of pharmacists; failure to adhere to this could result in medication errors by pharmacies.
If you have further questions about who may have owed you a duty of care for medication dosage errors, contact us today.
What Should You Do If A Medication Error Occurs?
There are a few steps you could take if you believe that you have taken the wrong dosage of medication. First, you should seek medical attention. You may wish to do this in a
Other actions you can take to prove a medication error was caused by negligence include:
Taking photographs of prescription labels and the medication you received.
Recording your symptoms. This can be important in showing the extent of the harm you have suffered.
Getting a copy of your medical records.
Taking notes of the medical professionals involved in the incident, dates of certain occurrences, and the locations where they occurred.
Our advisers could give you free legal advice about medication dosage errors. They may also be able to offer advice about further evidence you could gather or the ways in which a solicitor could aid in putting together a medical negligence claim.
Medication Dosage Errors – What Compensation Could I Receive?
Medical negligence compensation may relate to two separate aspects of the harm you experienced, reflected in up to two heads of claim. General damages relate to the pain and discomfort you've suffered, while special damages can be a means to recoup financial losses incurred as a result of the incident.
It is possible to get some insight into the amount you may receive in general damages by turning to the Judicial College Guidelines. Medical negligence solicitors frequently use this document as it is a resource that can help them assess claims.
| Type of Harm | Compensation | Further Notes |
| --- | --- | --- |
| Brain Damage- Moderately Severe (b) | £219,070 to £282,010 | Serious disabilities of a physical or cognitive nature. May involve a shortened life expectancy. |
| Injuries Affecting the Senses (c) (i) | £95,990 to £179,770 | Sight loss in one eye and reduced vision in the other. Some risk of deterioration to remaining vision. |
| Female Reproductive System | £114,900 to £170,280 | Infertility with sexual dysfunction, severe depression and scarring. May be accompanied by significant related medical complications. |
| Epilepsy (a) | £102,000 to £150,110 | Established grand mal seizures. |
| Epilepsy (b) | £54,830 to £131,370 | Established petit mal seizures that may or may not be controlled by medication. |
| Male Reproductive System | £114,900 to £148,320 | Total impotence and loss of function in young person. |
| Psychiatric Damage Generally (b) | £19,070 to £54,830 | Significant problems in relation to coping with life events and effect on individual's relationships, but with a generally optimistic prognosis. |
| Kidney (c) | £30,770 to £44,880 | Loss one kidney with no damage to the second. |
| Impairment of Taste and Smell (a) | In the region of £39,170 | Total loss of both taste and smell. |
| Asthma (d) | £10,640 to £19,200 | Relatively minor symptoms. |
Please note the compensation brackets included in the table above are only intended as guidelines. They do not take into account your specific circumstances, nor do they include special damages.
What Other Compensation Could I Receive From Wrongly Prescribed Medication?
Special damages are the second head of claim that may be awarded alongside general damages. They may help you recoup financial losses, such as:
Lost earnings
Lost future earnings
The cost of travelling to and from hospital appointments
The cost of seeking medical treatment that you've had to pay for out of pocket
To learn more about the ways in which special damages may be awarded in claims made following medication dosage errors, contact our advisers.
No Win No Fee Solicitors – What Are The Benefits?
Our advisers may be able to put you in touch with one of the No Win No Fee solicitors on our panel. Solicitors can be useful when making claims for medication dosage errors.
If you are concerned about the costs that can be associated with legal representation, one of the solicitors from our panel may offer you a type of No Win No Fee agreement known as a Conditional Fee Agreement (CFA).
Under the conditions of this agreement, you will not usually pay for the solicitor's fees if your claim fails. Instead, your solicitor will take a success fee from the compensation you are awarded. This amount is capped by law.
Contact Us For Free Now To See If You Can Claim
Get in touch with our advisers if you'd like to know more about claiming for avoidable harm caused by being given the wrong medication doses. They can offer advice about the merits of your potential claim. Speak to us today:
Call us at 0800 408 7827
Get in touch using the Contact Us form
Use the live chat feature below to speak to an adviser
Learn More About Claiming For Medication Dosage Errors
We've provided a few more resources you may find useful:
Prescription writing guidance from the National Institue for Health and Care Excellence
The duty of care as laid out by the Royal College of Nursing (RCN)
Report a concern to the Care Quality Commission
We have also included links to more of our guides below that you might find useful:
How to report medication errors
Medication errors in paediatric and children's healthcare
We hope this article discussing medication dosage errors has been of use to you. If you'd like to know more, contact our team of advisers using the information below.
Guide by NY
Editor NS