If you've suffered harm following a pharmacy dispensing error caused by negligence, you may be interested in seeking medication error compensation. Taking the wrong medication can put your health at risk. If you can prove pharmacist negligence was the cause of the harm you experienced, you may have grounds for a medical negligence claim.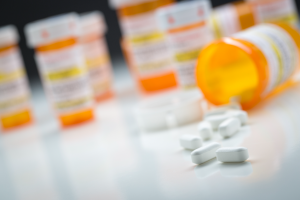 This guide will outline what steps you could take if a pharmacist made a dispensing error because they breached the duty of care that they owed you. We will also discuss the duty of care you are owed by all medical professionals and how evidence proving a breach occurred can support your claim. Alongside this, you can see dispensing error examples with further discussion on how much compensation your injuries could be worth. 
Furthermore, we will highlight the benefits of No Win No Fee agreements, which may be beneficial to those seeking legal representation. Our advisors may be able to connect you with medical negligence solicitors if your claim is valid.
To learn more, continue with this pharmacy dispensing error guide. Alternatively, you can reach our advisors for free expert legal advice using the following contact details: 
Choose A Section
What Is a Pharmacy Dispensing Error?
Prescription errors are a kind of medication error. It is when an error in a pharmacy causes an issue with the medication a patient is supposed to take. 
In order for you to make a claim for the harm caused by a prescribing error, you need to be able to demonstrate that the error came about because of a breach of duty of care. All medical professionals owe the patients that they treat a duty of care.
This duty of care means that they need to provide their patients with a level of care that does not fall below an expected standard. This duty of care applies to all medical professionals, including nurses, doctors, surgeons and pharmacists.
To make a claim, you must provide evidence that medical negligence caused you unnecessary harm. You can read on to see examples of relevant evidence for a breach of duty of care. Contact our advisors for further support if you cannot find answers in this guide.
Potential Injuries from Prescription Errors
Prescription errors can occur in a number of ways and have various effects on the patient. Some examples of potential prescription errors include:
In a pharmacy in a hospital, the drugs are mislabeled, meaning that you are given the wrong medication. If this happened because of a breach of duty of care, then you could be awarded compensation for hospital negligence.

A pharmacist reads your prescription wrong and provides you with the wrong medication. 

You're given the right medication in a pharmacy, but you're told by the pharmacist to take too low a dosage of medication. This results in your condition remaining untreated for longer than it otherwise would have.
Though this list is not exhaustive, there are many circumstances in which pharmacy dispensing errors can occur that we have not mentioned above. Contact us today using the banner above to see if your pharmacist negligence claim is valid.
Medication Errors in Healthcare – How Often Do They Happen?
The NHS Resolution publishes information about learning from medication errors. This allows the NHS to set goals and improve on past mistakes.
From April 2015 to March 2020, 321 medication error claims concerned one element of the prescribing process. We've displayed a graph below to highlight how many medication errors occurred at each stage in the process.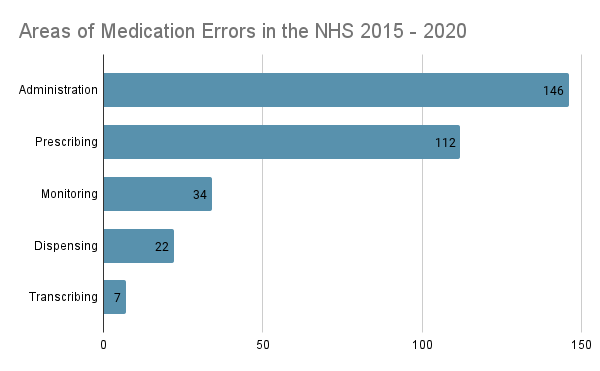 Can I Claim For A Pharmacy Dispensing Error? – The Importance of Duty of Care
In order to make a pharmacy dispensing error claim, you must be able to prove the following:
The medical professional in question owed you a duty of care

This duty of care was breached 

You suffered avoidable harm as a result of this breach 
You cannot claim simply because a medication error has occurred. It must have been caused by medical negligence, and it needs to have caused you unnecessary harm.
Sometimes, causing harm is a necessary part of providing medical treatment. For example, treatment for cancer could involve chemotherapy. This is a kind of treatment that can make you feel unwell, cause fatigue and make your hair fall out. However, if you were given chemotherapy in accordance with the duty of care owed to you, you would not be able to claim for this harm.
Furthermore, sometimes complications can arise with medical care that can cause harm despite the duty of care that is owed being fulfilled. For example, you might acquire a hospital infection despite all the medical professionals who treated you adhering to the standard of care they were expected to provide.
Furthermore, you need to start your claim within the appropriate time limit. This is generally three years
What Evidence Do I Need To Claim For Pharmacy Negligence?
In order to make a successful claim for pharmacy negligence, you should provide evidence in support of your case. Potential evidence could include:
A copy of your medical records showing the effects of the medication error

A diary detailing your physical and mental symptoms

Witness contact details so that statements can be provided
You must also be within the time limit outlined in the Limitation Act 1980. This states that you must begin the legal process within three years of the negligence or the date of knowledge. The date of knowledge is the date you realised (or would have been expected to realise) that your worsening condition was caused by medical negligence. 
Contact our advisors today to see if you could be eligible to claim compensation for the harm you were caused by a negligent pharmacy dispensing error. 
Medical Negligence Calculator – What Compensation Could I Receive?
When seeking medical negligence compensation, you can receive a settlement that is made up of two heads. General damages compensate you for the pain and suffering you sustained due to medical negligence. This includes physical and psychological ailments you've experienced as a result of medication errors in healthcare that are caused by negligence.
Instead of providing a medical negligence calculator, we have provided the table below. It highlights guideline compensation brackets. These figures are taken from the Judicial College Guidelines (JCG), which are used by medical negligence solicitors to help them value claims.
| Injury | Compensation | Notes |
| --- | --- | --- |
| Kidney (a) | £169,400 - £210,400 | Permanent and serious damage to both kidneys. |
| Kidney (b) | Up to £63,980 | A significant risk of total loss of kidney function. |
| Kidney (c) | £30,770 - £44,880 | One kidney is lost without damage to the other. |
| Bladder (a) | Up to £184,200 | Medical complications combined with total loss of bowel and bladder function. |
| Bladder (b) | Up to £140,660 | All control of the bladder is lost. |
| Bladder (c) | £63,980 - £79,930 | The injured person will suffer from pain alongside incontinence. |
| Digestive System (Non-Traumatic) (b) (i) | £38,430 - £52,500 | Severe abnormal condition caused by a toxin and resulting in pain, vomiting and discomfort. |
| Digestive System (Non-Traumatic) (b) (ii) | £9,540 - £19,200 | Food poisoning, diarrhoea and vomiting that decreases over two to four weeks but some discomfort remains. |
| Spleen (a) | £20,800 - £26,290 | Loss of the spleen increases the risk of infection and disorders developing. |
| Spleen (b) | £4,350 - £8,640 | Injury of the spleen where infection is not a risk. |
It is important to note that the figures above are a guideline and will not reflect the exact amount of your claim. This is because your individual circumstances will be taken into consideration when your claim is valued. To receive a more accurate estimation of your compensation, contact us.
What Other Compensation Could I Receive From A Pharmacy Dispensing Error?
Special damages are the second potential head of a medical negligence claim. It can compensate you for any financial losses that you've incurred as a result of medical negligence. It could include costs such as:
Travel costs to medical appointments

Care costs

Medical expenses 
You must provide evidence of financial losses in order to seek special damages. This can include receipts, bank statements, and prescriptions. Get in touch to learn more about what could be included in a medication error compensation claim.
Why Use Our No Win No Fee Solicitors?
A No Win No Fee agreement may be a beneficial option for you if you're eligible to claim compensation. Our panel of solicitors can offer a form of this kind of agreement called a Conditional Fee Agreement (CFA).
Generally, under this kind of agreement, you won't pay your lawyer upfront or as they are working on your case. You also usually won't pay them if your claim is not a success.
In the event that you're awarded compensation, you will have a success fee deducted from your settlement. This is legally capped, ensuring you get to keep most of your settlement.
To learn more about whether a member of our team could connect you with a No Win No Fee medical negligence solicitor, please don't hesitate to contact us.
Contact Us For A Free Consultation
Our specialist advisors are available 24/7 to answer any questions you may have. We can also offer you a free consultation to estimate compensation for damages and help you start the pharmacy dispensing error claims process.
To get in touch, you can:
Learn More About Claiming for a Pharmacy Dispensing Error
Thank you for taking the time to read our pharmacy dispensing error guide. See below for more helpful resources.
You can find more of our guides here.
Writer Jess Arkinsaw 
Publisher Fern Strickland