You may be interested in making a medication error claim after suffering harm from medical negligence. Wrongly prescribed medication can cause physical and psychological damage that may affect you several areas of your life. However, with evidence to prove you sustained harm due to medical negligence, you may be able to seek compensation. We will explore what constitutes negligence further in this guide.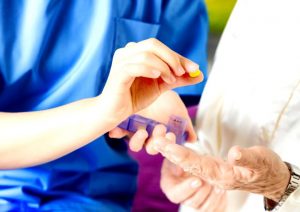 Additionally, this guide will discuss the various ways medication errors can occur. Alongside this, we will explore the medication error claims process such as the steps you can take to build a strong case.
Furthermore, you may be wondering how much compensation you could be owed. If so, this guide could help by providing an alternative to a medical negligence claim calculator and exploring what your settlement could comprise.
Read on to learn more or speak with an advisor from our team. Our advisors are available at any time that suits you to offer free legal advice. To get in touch, you can:
Choose A Section
What Is A Medication Error Claim?
Medication errors can take place at any time during the process of medication being prescribed, administered, prepared, dispensed, monitored or having advice provided on medicines. According to the NHS, they are referred to as Patient Safety Incidents.
There are various ways in which a medication error could occur. For example, a medical professional could prescribe you the wrong medication or they could give you a dosage that is too high or too low.
However, not all instances of medication errors could form the basis of a valid claim. In order to seek medical negligence compensation, you must prove that a medical professional breached the duty of care they owed you and caused you harm. This guide will discuss the details of this duty of care further. 
To learn more about seeking hospital negligence payouts or a payout for another type of negligence, read on. Alternatively, you can call our advisors to start a medication error claim using the number above.
Examples of Wrongly Prescribed Medication
There are various ways medication errors could occur. For example:
Your

GP

makes an error when typing out your

prescription

, causing you to receive the wrong medication.

A

nurse

practitioner

administers you dosage of medication that is too high. As a result, you experience symptoms of an overdose.

A

hospital

doctor fails to check your patient history. This can result in you taking medication containing ingredients that you have a known allergy to. 
If you have experienced a similar incident to the examples above, call us to see if you could make a medication error claim.
Prescription Errors In The UK – How Often Do They Happen?
The NHS Resolution published a document in 2022 to explain how they are learning from medication errors within the organisation. This information is shared with the public to highlight issues within the NHS. It also shows what steps they are taking to improve. A key ambition noted in this document is their aim to reduce severe avoidable medication-related harm by 50% by March 2024.
As per the document from NHS Resolution, from April 2015 to March 2020, 1,420 claims relating to errors with medication were made. The total cost of damages paid in closed claims totalled £10,419,356.
Below, we have included a graph showing the nature of the claims made.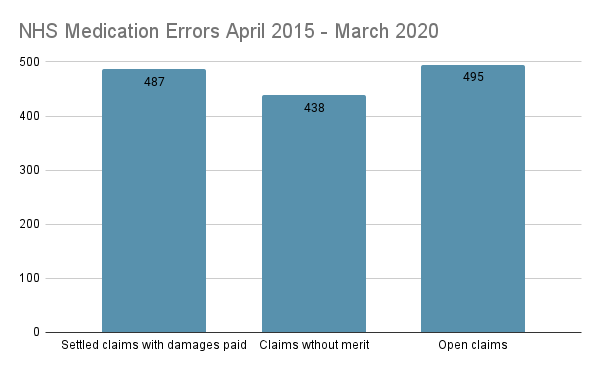 Medication Error Claim – Why Is Duty of Care Important?
All medical professionals owe a duty of care to their patients. This involves them providing care that meets the correct standard. 
It is important that you prove the duty of care owed to you was breached and that this breach caused you avoidable harm in order to make a claim. These are the three criteria of medical negligence.
In order to prove negligence, you can gather evidence to support your claim. We have explored this further in the section below. Read on to find out more. Alternatively, you can call our team to learn whether you're eligible to make a medication error claim.
What Evidence Could Help You Claim For Prescription Errors?
It is important that you provide proof of medical negligence causing you harm in order to make a medication error claim. For instance:
Providing a diary listing all of your symptoms and treatments during the time period in question

Keeping prescriptions and medication packets

Obtaining medical records, including hospital reports and doctor reports
In addition to collecting evidence, you should also consider the time limits involved with starting a claim. You must be within the three year time limit specified in the Limitation Act 1980 in order to start a claim. The time limit could start from the date of the incident or the date you connected the harm you sustained with negligence. There are some exceptions to this time limit though. 
You can seek free legal advice to learn more about the exceptions. They can also give guidance on the medication error claims process. Our advisors can provide free legal advice if you call the number above.
How Much Compensation Could I Receive From a Medication Error Claim?
When seeking compensation for harm sustained due to medical negligence, you could receive a settlement comprising general and special damages. General damages allow you to claim for a settlement after the physical and psychological pain and suffering you endured due to the harm you sustained as a result of medical negligence. 
The Judicial College Guidelines (JCG) are a publication used by legal professionals to value help them when valuing the general damages head of claim. We've included examples of guideline compensation figures in this publication in the table below. 
| Type of Harm | Guideline Compensation Bracket | Description |
| --- | --- | --- |
| Kidney Injury (a) | £169,400 - £210,400 | Both kidney's are permanently damaged in a serious way or completely lost. |
| Kidney Injury (b) | Up to £63,980 | There is a significant risk of urinary tract infections and other loss of kidney functions. |
| Bowel Injury (a) | Up to £184,200 | Complete loss of bowel function as well as urinary function and control. There may be other medical complications. |
| Bowel Injury (b) | Up to £150,110 | The person loses complete function and depends on a colostomy. |
| Injuries Affecting Sight (c) (i) | £95,990 - £179,770 | The person loses sight in one eye and has reduced vision in the other eye. There is a serious risk of the remaining eye deteriorating. |
| Deafness/ Tinnitus (b) | £90,750 - £109,650 | The person is completely deaf. |
| Chest Injury (a) | £100,670 - £150,110 | This bracket includes serious damage to the heart that causes prolonged pain and suffering as well as permanent and significant scarring. |
| Male reproductive system (d) | £56,080 - £71,350 | A case of sterilisation without complications. There is no impotence or other aggravating features. Usually affects a young person who has no children. |
| Spleen Injury (a) | £20,800 - £26,290 | Loss of spleen where internal infection and disorders are an ongoing risk due to a damaged immune system. |
| Spleen Injury (b) | £4,350 - £8,640 | Risks of infection and disorders are not present or are minimal. |
Please note that these compensation brackets are a guideline and will not reflect the specific circumstances of your claim. You can contact our advisors today for a more accurate estimation.
What Else Could You Claim For After A Medication Error?
Special damages compensate you for financial losses incurred due to suffering harm from medical negligence. These losses can include:
Loss of earnings

Medical bills 

Travel expenses

Mobility aids

Home modifications
You must provide evidence of financial losses in order to claim special damages. This can be proof of purchase through receipts, prescriptions of incorrect medication and bank statements.
If you're unsure about how to collect evidence to support your medication error claim, contact our advisors today. 
No Win No Fee Solicitors – Why Use Them?
Our panel of No Win No Fee solicitors offer their services under a Conditional Fee Agreement (CFA). These terms mean you aren't required to pay for their services upfront, for the duration of your claim or if your claim fails. 
If you're successful in gaining a settlement, your solicitor will be paid a success fee. This sum is taken from your compensation at a legally fixed rate. 
Our advisors can connect you with a solicitor from our panel if your claim is valid. To learn more, contact us today.
Contact Us For a Free Consultation Today
Reach out to our advisors for help with your medication error claim today. To get in touch, you can:
Learn More About Making A Medication Error Claim
See below for further resources to help you with your research.
More of our guides are linked below.
Thank you for taking the time to read our guide on making a medication error claim. For further support, call our advisors today.
Guide by AA
Editor NM