This guide will examine the process of making a medical negligence claim after receiving delayed treatment. We will explore the duty of care that medical professionals owe their patients and how a breach of this duty constitutes negligence.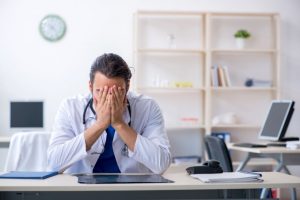 If delayed medical treatment caused you harm that might have been avoided if a doctor had provided you the correct standard of care, you may be eligible to claim compensation. This guide will help you determine if you meet the requirements.
Read on for information. Alternatively, you can contact our advisers to discuss your circumstances in more detail. To get in touch, you can:
Call 0800 408 7827 to speak with an adviser
Send us your query with our online contact form
Get in touch using the chat feature below.
Choose A Section
What Could Happen If I Receive Delayed Treatment?
Delayed medical treatment is any medical process a patient needs that does not occur in a timely manner. It could take many forms and could impact patients in different ways depending on the nature of the incident. For example:
A delayed radiation treatment could mean that a tumour continues growing, eventually requiring a surgery that might otherwise have been avoided.
Delayed treatment after a stroke misdiagnosis could mean you lose functions.
Delayed diabetes treatment could lead to conditions such as blindness or limb amputation.
If you are eligible to claim, compensation could be awarded to reflect the suffering you have experienced due to a medical professional breaching the duty of care they owed you.
All medical professionals owe their patients a duty of care. As a part of this duty, they must provide an adequate standard of care while treating patients. If they do not provide a minimum level of care and you suffer harm that would otherwise have been avoided, then you may be able to claim medical negligence compensation.
For more information, please get in touch on the number at the top of the page.
Delayed Treatment Statistics
The most recently available NHS statistics show that, in February 2020, there were 155,700 total delayed days in February 2020 which is the equivalent to an average of 5,370 people delayed per day.
This figure represents an increase from January 2020, in which 5,182 people were delayed per day, and February 2019, in which 4,543 were delayed per day.
Reasons Why Your Treatment Might Be Delayed
There are various ways in which delayed treatment could occur. For example:
A medical misdiagnosis could mean the medication or treatment you receive is ineffective and there is a delay in you receiving the correct treatment.
A medical professional could fail to notice how advanced an illness has become. In turn, there is a delay in the treatment you receive.
GP or doctor negligence could mean there are delays in referring you to a specialist. As a result, your treatment is delayed.
It's important to remember that not all incidents of treatment being delayed can form the basis of a valid claim. In order to seek compensation, you must be able to prove medical negligence occurred. This involves a medical professional providing care that fell below the expected standard and caused you to sustain avoidable harm.
In order to determine if an adequate standard of care has been delivered, the Bolam test might be carried out. During this process, a panel of medical professionals will come to a decision about the level of care you received, and these results can be used as evidence in your claim.
Please don't hesitate to contact us if you have questions about your particular circumstances. Our advisers can answer any questions about whether you could make a delayed treatment claim.
How Do I Make A Claim For Late Medical Treatment?
As part of the medical negligence claims process, gathering evidence could strengthen your case. This evidence could take many forms. For example, you can request a copy of your medical records, which could contain information about the treatment or diagnosis you received.
Another important step you can take is to make sure you begin your claim within the time limits set out for a medical negligence claim. These limits are, generally:
3 years from the date the incident occurred
3 years after the date you realised negligence caused or contributed to the harm you sustained.
There are some exceptions to these time limits when it comes to children or those without the capacity to make a claim. Contact our team of advisers to learn more about the exceptions. They can also provide guidance on how to make a medical negligence claim for delayed treatment.
Estimating Compensation For Delayed Treatment
After a successful delayed treatment claim, you could receive a settlement that is made of up to two heads of claim. These are known as general damages and special damages.
General damages relate to the pain and suffering you've experienced due to the harm you sustained as a result of medical negligence. When assessing the value of general damages, a solicitor will usually consult the Judicial College Guidelines to help them.
The guidelines contain compensation brackets for different injuries. We've included a table showing the brackets below. You should only use this table as a guide. This is because the award you receive could differ.
| Type of Harm | Award | Notes |
| --- | --- | --- |
| Bladder | Up to £184,200 | (a) Medical complications alongside the complete loss of natural bowel and urinary function and control. |
| Bladder | Up to £140,660 | (b) Function and control is completely lost. |
| Bladder | £63,980 to £79,930 | (c) Control is seriously impaired and the person experiences pain and incontinence. |
| Female Reproductive System | £114,900 to £170,280 | (a) An injury or disease leading to infertility causing significant medical complications such as where there has been a failure to diagnose ectopic pregnancy. |
| Male Reproductive System | £114,900 to £148,320 | (b) A case of complete impotence, loss of sexual function and sterility in a young person. |
| Bowels | Up to £150,110 | (b) Complete loss of natural function and a dependence on a colostomy. |
| Bowels | Around £79,920 | (c) Distress and embarrassment due to faecal urgency and passive incontinence continuing after surgery. |
| Kidney | Up to £63,980 | (b) Significant risk of a urinary tract infection in the future or other loss of natural function in the kidney. |
| Kidney | £30,770 to £44,880 | (c) One kidney is lost and the other remains undamaged. |
| Spleen | £20,800 to £26,290 | (a) Cases involving a lost spleen and continuing risk of internal infection and other disorders because of a damaged immune system. |
You could also claim back any financial losses caused by the harm you sustained due to medical negligence under special damages. For example:
Loss of income
Travel costs
Medical expenses
You will need to provide evidence of these losses, such as bank statements or payslips.
To learn more about the compensation you could receive following a successful claim, get in touch on the number above.
Can I Get A No Win No Fee Agreement?
If you wish to make a medical negligence claim after delayed treatment, you may benefit from working with a solicitor. If our advisers feel your claim is valid and then pass you onto one of the solicitors on our panel, they could offer their services under a type of No Win No Fee agreement.
The solicitors often work under the terms of a Conditional Fee Agreement (CFA). By using this agreement, you generally won't pay for your solicitor's services if your claim fails. Also, you usually don't have to pay in order to begin a claim or during the claims process.
Instead, No Win No Fee medical solicitors will take what's called a 'success fee' from your compensation. This percentage is subject to a legal cap.
Begin Your Delayed Treatment Claim
Get in contact with our advisers to learn more about how to start the process of claiming for delayed treatment. They are available 24/7 to provide free legal advice. To get in touch, you can:
Call 0800 408 7827 to speak with an adviser
Send us your query with our online contact form
Get in touch using the chat feature below.
More Information About Delayed Treatment Claims
Below, we have included some more of our guides that you may find helpful:
Additionally, we have provided some external resources that you may find helpful:
We hope this article has contained useful information about how to claim medical negligence compensation for delayed treatment. However, if you have any other questions, please get in touch using the details we have provided.
Guide by NF
Editor NM