This guide will look at when a birth injury compensation claim could be valid. We will provide information about what medical negligence is and the impact that it can have on patients.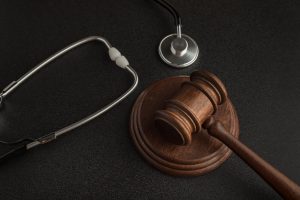 Furthermore, we will look at how settlements are valued in these kinds of claims. As part of this, this guide will explain the distinction between the two heads of claim that a compensation award could be made up of.
We will also discuss the benefits of legal representation from No Win No Fee medical solicitors. Keep reading if you're interested to learn more about birth injury claims. You can also contact one of our advisers who may be able to assign one of the solicitors on our panel to work on your claim.
For more information:
Use our contact form to request a call
Phone us at 0800 408 7827
Speak to our team using the chatbox below
Choose A Section
A Guide To Making A Birth Injury Compensation Claim
If you or your baby sustained an injury during labour, there are some circumstances in which you may be able to claim. Medical professionals automatically have a duty of care towards those that they treat, meaning they must provide the correct standard of care. If a health professional does not do this, a patient could suffer harm that the right level of care would have avoided. If a doctor breaches the duty of care they owe to their patient, causing them unnecessary harm, this is known as medical negligence.
To make a maternity negligence claim, you must be able to show that you and/or your baby were harmed unnecessarily because you did not receive the correct level of care. The next section describes the specific criteria you must meet to make a medical negligence claim.
Contact our team for a free consultation. They can answer specific questions you may have about making a birth injury compensation claim.
When Could I Make A Birth Injury Compensation Claim?
Not all birth injuries will form the basis of a medical negligence claim. In order to claim, you must show that a substandard level of care caused you avoidable harm. In some cases, you will need to be harmed in a medical setting in order to be treated.
For example, if tests indicate that your baby is breech, then you may need to undergo a caesarian section. While this procedure may cause you pain and leave you with a scar, if it's necessary in the course of your medical treatment, then this would not be grounds for a claim.
Below, we have included some examples of how a birth injury could occur.
Contact our advisers for free legal advice about the validity of your claim. You can also ask our team any questions about the process of making a birth injury compensation claim.
Evidence That Could Help In A Maternity Negligence Claim
If you claim for a birth injury, you will be expected to produce evidence regarding the medical negligence that occurred. For instance, it could be useful to produce:
Photographs of any physical injuries you or your child sustained
Contact details for any witnesses
Medical records, such as a copy of your doctor's notes
A medical negligence solicitor could help you identify and acquire useful pieces of evidence. For example, they could organise an independent medical assessment,  the results of which will be used to help value your claim.
A solicitor can also ensure your claim is filed before the time limit expires. According to the Limitation Act 1980, you must begin your claim within three years of the incident, or within three years of the date you became aware negligence played a role in the harm you experienced. Speak to our advisers to learn more about this.
Birth Injury Claims – What Compensation Could I Receive?
If your birth injury compensation claim is successful, you could receive a payout that reflects two types of harm. These two heads of claim are called general damages and special damages.
General damages are awarded to compensate you for the pain and suffering caused by the injury you sustained. A solicitor will generally assess the value of this aspect of your claim by consulting the Judicial College Guidelines (JCG), a document containing award brackets for different types and severity of harm.
The table below contains some of the JCG's award brackets. Please remember these birth injury compensation figures are guidelines only. Your actual compensation will vary depending on your personal circumstances.
| Avoidable Harm Sustained | JCG Compensation Bracket | Further Notes |
| --- | --- | --- |
| Tetraplegia, or Quadriplegia | £324,600 to £403,990 | Award considers the level of awareness, effect on senses, presence of brain damage and other factors. |
| Reproductive System: Female | £114,900 to £170,280 | Injury or disease leading to infertility with severe depression, pain and scarring. |
| Reproductive System: Female | £56,080 to £71,350 | Infertility unaccompanied by aggravating features. |
| Severe Neck Injuries (i) | In the region of £148,330 | Associated with paraplegia that is incomplete or permanent spastic quadriparesis, a severe form of cerebral palsy. |
| Bladder | £63,980 to £79,930 | Control impairment with some pain and incontinence. |
| Bladder | £23,410 to £31,310 | Nearly complete recovery accompanied by long-term interference with function. |
| Digestive System (i) | £43,010 to £61,910 | Damage that is severe with ongoing pain and discomfort. |
| Digestive System (ii) | £16,790 to £27,760 | Permanent complications caused by serious, non-penetrating injury. |
| Moderate Pelvis and Hip Injuries (i) | £26,590 to £39,170 | Significant injury that does not cause major disability or great future risk. |
Special Damages In A Medical Negligence Claim
Your birth injury compensation could include a second head of claim, called special damages. This is intended to help reimburse you for certain financial losses you experienced due to the birth injury. For example, special damages could help you recoup:
Lost earnings and, if you are unable to return to work, lost future earnings
Medical expenses incurred as a result of the injury
Travel costs; for example, when taking taxis to hospital appointments
This list of potential special damages is not exhaustive, so contact our team if you'd like to know more about this.
Can I Make A No Win No Fee Medical Negligence Claim?
You are not required to work with a solicitor to begin a birth injury compensation claim. However, it could benefit your case to draw on the knowledge and experience of a professional.
If our advisers feel your claim is valid, they may assign it to one of the solicitors on our panel. The solicitor may offer you the option of using a specific kind of No Win No Fee agreement known as a Conditional Fee Agreement (CFA).
If you agree to the terms of a CFA, you generally don't have to pay for the solicitor's services if your claim fails. Also, there are no upfront fees or ongoing charges to pay.
Instead, your solicitor would take a success fee from your compensation. This amount is subject to a legislative cap and is only taken if your claim succeeds.  What's more, you will always receive the majority of your compensation.
Contact Us For Free Today To See If You Can Claim For Medical Negligence
If you have further questions about how to sue for negligence that occurred while you were giving birth, our advisers can help. They can offer information you may want about the claiming process. Also, they may be able to put your case in front of our panel of solicitors, who can use their expertise to pursue your claim for medical negligence compensation.
This consultation is free and our advisers are available 24/7. For more information:
Learn More About Making A Birth Injury Compensation Claim
Additional guides that may help:
Medication Dosage Errors – Can I Claim Compensation?
Can I Sue A Hospital For Negligence? 
How To Prove A Medication Error Claim For Compensation
Third-party resources:
Never Events – NHS guidance about certain occurrences that should never occur
NHS Constitution For England – Government information regarding the rights of NHS patients, staff, and members of the public
Good Medical Practice – Ethical guidance from the General Medical Council (GMC) regarding the standards that doctors must uphold
Thank you for reading this guide about making a birth injury compensation claim. Contact our team if you'd like further advice.
Writer Morgan Flick
Publisher Fern Strickland