Welcome to our guide on retained foreign body claims. We will cover information that may be useful to know before starting a claim, such as how settlements are valued and the evidence you could use to support a claim.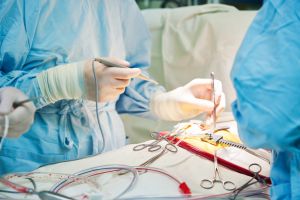 All medical professionals owe their patients a duty of care, which means they must provide them with the correct level of care. A patient who is not provided with this level of care could suffer physical or mental harm that may otherwise have been avoided. This includes the suffering caused by a foreign body being retained after surgery.
Keep reading to find out more about claiming foreign body. Alternatively, you can contact our team of advisers and ask any questions you may have directly. They can offer legal advice about your potential claim and may be able to put you in touch with one of the solicitors from our panel. Reach us by:
Calling our team at 0800 408 7827
Filling out our online contact form
Speaking to us using the chatbox below
Choose A Section
What Are Retained Foreign Body Claims?
You may be able to claim for harm that could have been avoided if your doctor or surgeon had given you an adequate level of care. If you're harmed by a medical professional breaching the duty of care that they owe, and this harm could have been avoided by the right level of care being administered, then this is an example of medical negligence.
The retention of foreign objects following surgery is an example of a Never Event. These are events are wholly preventable by the adherence to frameworks that are in place. Never events are always an example of a breach of duty.
If a medical professional left a foreign body inside you after surgery, you may be able to claim medical negligence compensation. Contact our advisers today to discuss the details of your potential claim.
Latest Medical Negligence Stats
NHS Resolution is an arm's length body of the Department of Health and Social Care. It creates annual reports consisting of information regarding NHS performance, accountability, and financial statements. They recorded the following statistics regarding retained foreign objects: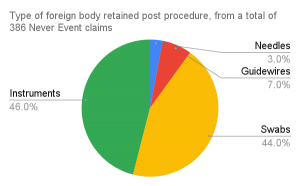 NHS Resolution recorded 454 claims settled with damages and, of these, 389 were Never Events. Call our advisers to discuss the evidence you could provide in a claim for a retained foreign object following surgery.
Reasons For A Foreign Body Injury
It is important to note that not instances of objects being retained post-surgery are considered Never Events. For example, according to the NHS list of Never Events, if an object is known to be missing before the procedure is completed, but retrieving them is not possible or would cause more harm than retaining the object, then this is excluded from the Never Events list.
Some examples of retained objects that may form the basis of valid retained foreign body claims include:
A doctor inserts an object called a pledget under a patient's eyelid during surgery. This small swab is not removed at the end of the surgery, causing great damage to the patient's eye during the following days.
A patient goes for an X-ray following a procedure, which reveals that the tip of a needle broke off during surgery and remained lodged inside the body. This discovery requires them to undergo another surgery to extract the needle tip as it poses a risk of injury to internal organs.
A surgeon retrieves only four of the five clamps used during cosmetic surgery. The retained object is discovered after the patient complains of intense stomach pains.
In each of these examples, a patient was not given the correct level of care and, as a result, suffered physical and mental harm that could have been avoided. Even if the patient did not experience pain because of the foreign object itself, they would need to undergo unnecessary surgery to remove it.
If you'd like to discuss valid grounds for foreign body claims, contact our advisers. They could connect you with one of the hospital negligence solicitors from our panel.
What Evidence Supports Retained Foreign Body Claims?
To claim medical negligence compensation, you will need to produce evidence. For example, you will be expected to produce medical records regarding the incident. These could include reports made directly after the surgery, nursing observations while you recovered and GP or doctor notes regarding follow-up appointments.
However, there are other pieces of evidence that may form an important part of your claim. For example, you may be able to get the contact details of individuals who witnessed the events or the aftermath. This could include nurses, anaesthetists, or other medical professionals.
Contact our advisers if you have questions about how to make a medical negligence claim. They can offer advice about the evidence that would be useful in retained foreign body claims.
Compensation After A Foreign Body Injury
A payout for medical negligence could involve up to two heads of claim. These aim to compensate you for different aspects of the suffering you experienced; general damages relate to the pain and suffering caused by the medical harm you experienced, while special damages can help you recoup certain financial losses.
To help calculate general damages, legal professionals will usually turn to the Judicial College Guidelines. This is a document containing compensation brackets for various injuries. We've included a table below showing some of these figures. However, these are intended only as guidelines.
| Type of Harm | JCG Compensation | Further Information |
| --- | --- | --- |
| Kidney | £169,400 to £210,400 | Permanent damage to or loss of both kidneys. |
| Bowels | Up to £150,110 | Complete loss of natural function and, depending on age, dependence upon colostomy. |
| Bowels | £44,590 to £69,730 | Abdominal injury that causes impairment of function and may require temporary colostomy and/or restriction of diet and employment. |
| Chest Injuries | £31,310 to £54,830 | Damage to chest and lung(s) causing some continuing disability. |
| Severe Psychiatric Damage Generally | £54,830 to £115,730 | Marked effect on person's relationship with family, ability to cope with education, work or life, and very poor prognosis. |
| Bladder | £63,980 to £79,930 | Serious impairment of control accompanied by some pain and incontinence. |
| Injuries Affecting Sight | £54,830 to £65,710 | Total loss of one eye, with some consideration given to age, cosmetic effect, and psychatric consequences. |
| Digestive System | £43,010 to £61,910 | Severe damage resulting from traumatic injury that causes continuing discomfort and pain. |
| Spleen | £20,800 to £26,290 | Loss of spleen in cases where there is ongoing risk of internal infection and disorders resulting from damage to the immune system. |
| Spleen | £4,350 to £8,640 | Where the above risks are not present or are minimal. |
Special damages may help recompense you for lost earnings, for example. This includes earnings you lost while recovering as well as future earnings you may lose if you're unable to return to work. Additionally, special damages can help you cover treatment costs, prescription costs and the cost of getting to and from various medical appointments.
Speak to our advisers to find out more about the compensation amounts that could be awarded in successful retained foreign body claims. They can offer advice about the validity of your claim and the likelihood that you would be able to sue a hospital for negligence.
Could I Get A No Win No Fee Solicitor For A Foreign Object Injury Claim?
If our advisers feel your claim is valid, they may put you in touch with one of the solicitors on our panel. In turn, these solicitors could offer you a No Win No Fee agreement. Essentially, this type of agreement gives you a way to access a solicitor's services without having to pay their fees upfront.
One of the solicitors from our panel may offer you a type of No Win No Fee agreement called a Conditional Fee Agreement (CFA). By agreeing to these terms, you generally will not have to pay your solicitor's fees if your claim fails. Usually, you also won't have to pay upfront in order to begin the claim or during the claiming process itself.
Instead, if your claim is successful, your solicitor will take a success fee from your compensation. This fee will be agreed upon before you hire them and is subject to a legal cap. This means the solicitor cannot take more than a certain amount of money, which always leaves you with the majority of your settlement.
Ask About Making Retained Foreign Body Claims
Our advisers are available 24 hours a day and 7 days a week, so you can get in touch whenever is most convenient for you. They are an excellent way to get legal insight about retained foreign body claims, as they can listen to your circumstances and offer relevant advice about making a No Win No Fee hospital negligence claim. This consultation is free and, afterwards, there is no obligation to continue using our services. Contact us by:
Calling our team at 0800 408 7827
Filling out our online contact form
Speaking to us using the chatbox below
Further Information About Making Retained Foreign Body Claims
If you'd like to know here, here are other guides we've written:
Hospital-Acquired Infection Compensation Claims
What Is The Average Claim Settlement For A Cancer Misdiagnosis?
How To Claim After A Pharmacy Dispensing Error
We've also included some third-party resources you may find useful:
Medicines Information – NHS information about different medications
NHS Constitution – Government resource about the NHS Constitution
Good Medical Practice – General Medical Council (GMC) guidance about a doctor's good medical practice
We hope this guide has provided useful information about retained foreign body claims. If you have more questions about this topic, contact our team of advisers using the methods below.
Writer Morgan Flick
Publisher Fern Strickland