Are you wondering what the average settlement for a cancer misdiagnosis could be? If your condition has been made worse, or you have undergone unnecessary medical treatment due to a misdiagnosis caused by negligence, then this guide could help.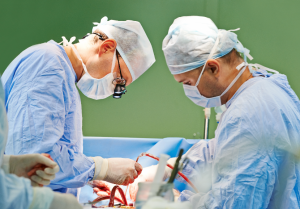 We will explain some of the factors that go into determining if your case is eligible, as well as how much compensation you might receive after a successful cancer misdiagnosis claim.
Doctors, surgeons, nurses, and other medical staff owe a duty of care to their patients. This means that medical professionals must provide patients with a reasonable standard of care. If you can show that you suffered avoidable harm because this level of care was not provided, you may be able to make a medical negligence claim.
Read on to learn more about claiming cancer misdiagnosis compensation. Additionally, our team of advisers are available 24/7 to answer any questions you may have about making a medical negligence claim. To talk through your questions about the average settlement for a cancer diagnosis, contact us by:
Filling out our online contact form
Calling an adviser at 0800 408 7827
Using the chat feature on the screen now
Choose A Section
What Factors Determine The Average Settlement For A Cancer Misdiagnosis?
Medical professionals must provide a standard of care that does not fall below a minimum level. If the care they provide falls below this standard, then their patients might experience avoidable harm. A breach of duty of care that causes avoidable harm in a medical setting is medical negligence.
Not all harm will form a valid basis for a claim. For example, chemotherapy can cause severe side effects. However, if you were administered this in keeping with the standard of care, you'd be unable to claim as it's necessary.
You may be eligible to make a misdiagnosis claim if your condition worsens because of a doctor's failure to treat cancer meant you underwent the wrong treatment because they breached the duty of care they owed you. Contact our advisers if you'd like to speak to someone about your personal circumstances. They may not be able to provide an average settlement for a cancer misdiagnosis; however, an adviser can help you assess which may or may not be relevant to your potential claim.
Recent Misdiagnosis Statistics
In 2020/21, a report from NHS Resolution stated that there were 10,816 clinical negligence claims made against the organisation. Of these claims, 2% related to the gastroenterology specialty, 9% to gynaecology, and 35% to other fields.
These numbers do not reflect the number of claims specifically relating to cancer misdiagnosis errors stemming from negligence. If you would like guidance on the amount you could receive in your claim, speak with an advisor today.
Why Cancer Might Be Misdiagnosed
A misdiagnosis will often fit into one of the following categories:
Missed diagnosis – A medical professional misses your condition entirely
Incorrect diagnosis – A medical professional attributes your symptoms to the wrong condition
Late diagnosis – There was a delay in a medical professional diagnosing your condition
In order to bring a medical misdiagnosis claim forward, you must be able to show that your condition worsened because you were not provided with an adequate standard of care.
Not all diagnosis errors will lead to a claim for misdiagnosis, as a doctor could reach the wrong conclusions about your condition even while providing you with an adequate standard of care. For example, your may be suffering from a condition like liver cancer, which can be largely asymptomatic, meaning your doctor would not be expected to make a correct diagnosis based on the information they have. It is only when they act negligently that you may be able to pursue misdiagnosis compensation.
If a doctor's negligence did contribute to your worsening condition, your potential claim must begin within 3 years of either the date of the incident or the date you realised negligence contributed to the incident.
Many factors can contribute to a medical misdiagnosis claim, and therefore providing an average settlement for a cancer misdiagnosis is not always helpful. Call our advisers to discuss the compensation you may be able to receive for your potential medical negligence claim.
What Evidence Could I Use In A Cancer Misdiagnosis?
A misdiagnosis claim will benefit from evidence. Some examples of the evidence you could provide includes:
Communications between you and your healthcare provider. If you made a complaint about the incident that caused you harm, then your initial response and their complaint could support your claim.
Copies of your medical records, test results, and prescriptions.
Names of the medical staff involved in your treatment, the dates and locations where treatments took place
The Bolam Test could determine whether or not negligence took place. This is a test that utilises a panel of medical professionals with the relevant training. They'll determine whether or not the care delivered by the medical professional in question was reasonable.
Our advisers can offer information about evidence that could help in a claim for hospital negligence. Keep reading to learn more about compensation for a misdiagnosis. You could also get in touch to ask about the first steps in making a claim.
Calculating The Average Settlement For A Cancer Misdiagnosis
A cancer misdiagnosis settlement could involve up to two heads of claim. These can recompense you for different aspects of the avoidable harm you sustained.
Some insight on the first head of claim, known as general damages, can be found in the Judicial College Guidelines (JCG). This head of claim is awarded to compensate for pain and suffering.
Kind of Injury
Compensation Amount
Further Details
Bowels (a)
Up to £184,200
Loss of natural bowel and urinary function combined with other medical complications.
Bowels (b)
Up to £150,110

Total loss of function, dependence on colostomy.
Reproductive System: Female (a)
£114,900 to £170,280
Injury due to disease with sexual dysfunction, severe depression and anxiety, pain, scarring.
Reproductive System: Female (e)
£6,610 to
£18,680

Infertility where the injured person would not have had children in any case
Reproductive System: Male (a)
In excess of £153,870

Total loss of reproductive organs
Reproductive System: Male (b)
£114,900 to £148,320
Loss of sexual function and sterility in the case of a young person.
Bladder (b)
Up to
£140,660

Complete loss of control and function
Bladder (b)
£63,980 to £79,930
Control impaired, some pain and incontinence
Kidney
£59,860 to £100,670
Both kidneys seriously damaged or lost
Mental Anguish
£4,670
Fear of death or of reduction in lifespan
Medical negligence lawyers will often refer to the JCG while assessing a claim. However, it is important to note that the compensation brackets are only guidelines. This is one of the reasons why the average settlement for a cancer misdiagnosis might not be useful to you; claims are valued based on individual circumstances.
Special damages, a second head of claim, can help you recoup the financial losses you've incurred because of your injuries. For example, they may recompense you for:
Travel expenses related to your situation, such as taking a bus to and from specialist consultations
Lost wages, including past and future earnings
Medical expenses related to your recovery
Our advisers could offer detailed, personalised insight into the two heads of claim that your claim could consist of. They also may be able to connect you with a lawyer from our panel. Contact us today if you have questions about the cancer misdiagnosis payout your claim may merit.
What Does No Win No Fee Representation Mean?
Medical negligence law can be a complex topic. One of the No Win No Fee medical negligence lawyers from our panel could be able to help.
You may be offered a Conditional Fee Agreement (CFA), which is a kind of No Win No Fee agreement that means you generally do not have to pay for the solicitor's services upfront or during the claims process. Furthermore, you usually don't pay them in the event that you're not awarded compensation. Instead, your solicitor will take a small percentage of your compensation in the event of a successful claim. This 'success fee' has a legal cap.
Start A Cancer Misdiagnosis Claim
Contact our advisers to learn more about the benefits of using No Win No Fee medical solicitors. They can also provide you with a more detailed calculation than the average settlement for a cancer diagnosis. The consultation is free, and afterwards, there is no obligation to continue using our services. Get in touch by:
Filling out our online contact form
Calling an adviser at 0800 408 7827
Using the chat feature on screen now
Extra Information About The Average Settlement For A Cancer Misdiagnosis
Below, we've provided further links with information about this topic:
Making A No Win No Fee Hospital Negligence Claim
Hospital-Acquired Infection Compensation Claims
Claiming For A Stroke Misdiagnosis
Additionally, we have included the external resources below:
Report A Concern – Information about reporting a concern to the Care Quality Commission as a member of the public
Cancer Statistics Factsheet – 2021 figures from Macmillan Cancer Support
Chemotherapy – The NHS provide guidance on chemotherapy, which is a kind of cancer treatment.
We hope this article has provided useful information about the concept of an average settlement for a cancer misdiagnosis. You can contact us using the information below if you would like more personalised information.
Writer Morgan Flick
Publisher Fern Strickland