This guide will explore when you might be eligible to claim following a liver cancer misdiagnosis. All medical professionals owe their patients a duty of care, if this is not upheld, it could lead to patients suffering avoidable harm. This can include your condition worsening, such as cancer spreading elsewhere in the body. This is known as medical negligence.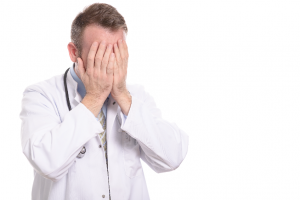 Our guide will explore the process of making a medical negligence claim, including the evidence you could gather to support your case.
Additionally, we will look at the compensation you could be awarded and how it's calculated.
We will also look at the benefits of working with a No Win No Fee medical negligence solicitor. 
Please continue reading for more information. Alternatively, if you have any questions about your potential claim, our advisors are available 24/7 to offer you support. To get in touch:
Choose A Section
Can Liver Cancer Be Misdiagnosed?
According to the NHS, patients that suffer from liver cancer may not have any symptoms or they may be hard to spot. Any symptoms the patient does experience will be the same if liver cancer starts in the liver or if it spreads from another part of the body.
Not all instances of a medical misdiagnosis will form the basis of a valid claim. A medical professional could have provided care that met the correct standard but you still experienced harm due to being misdiagnosed. In these instances, you may not be able to claim. To do so, you would need to prove medical negligence caused you avoidable harm.
Medical negligence occurs when a medical professional fails to provide patients with a minimum standard of care and causes them avoidable harm. As such, in order to make a medical negligence claim, you must prove the following:
You were owed a duty of care from a medical professional

This duty of care was breached 

You experienced unnecessary harm as a result of this breach in duty of care.
You can provide evidence to support your claim. We will discuss this in more detail later on in this guide.
Read on to see how a liver cancer misdiagnosis can take place and what steps you can take to make a medical negligence claim. Alternatively, you can call our advisors using the number above for more guidance.
Latest Statistics For Cancer Negligence
According to Cancer Research UK, there were 6,214 new cases of live cancer each year between 2016-2018 on average in the UK.
Additionally, 49% of liver cancer cases in the UK are preventable.
How Could A Liver Cancer Misdiagnosis Happen?
There are various ways a liver cancer misdiagnosis could occur. For example:
Your

doctor

fails to complete the appropriate diagnostic tests despite you presenting clear symptoms, which can result in a diagnosis of the wrong condition. As a result, you receive delayed treatment which leads to the cancer spreading.

Admin staff at the

hospital

mix up your test results with someone else's. As a result, you are diagnosed with a different condition.

Your GP dismisses concerns you have about your symptoms and refuses to send you for the appropriate tests to check for cancerous cells in your body. 
However, please remember, not all instances of a misdiagnosed condition will form the basis of a valid claim. To learn more get in touch with our team on the number above to see when you might be eligible to seek medical negligence compensation.
What Evidence Helps Support A Liver Cancer Misdiagnosis Claim?
There are various types of evidence that could help support your claim, including:
Medical records (including information on test results, hospital admissions and treatments)

Photographs of your injuries

A diary detailing your symptoms and whether they worsened
Additionally, you may be required to attend a medical appointment with an independent medical professional. They can assess the extent of the harm you sustained and the impact it has had on your quality of life. The report they produce can be used as evidence.
Furthermore, the Bolam test may be carried out to determine whether you were provided with the correct standard of care. The findings of their assessment can also be used to support your claim.
It may be helpful to you to receive legal advice on how the claims process works. This will give you more understanding of what steps you need to take to seek compensation for a liver cancer misdiagnosis. Our advisors can provide you with free legal advice regarding any aspect of the claims process. Contact us today to learn more.
Compensation For The Misdiagnosis Of Liver Cancer
When making a claim for medical negligence compensation, you can receive general and special damages. General damages compensates you for the psychological and physical harm you sustained as a result of medical negligence. 
The table below highlights figures are from the Judicial College Guidelines (JCG). This is used by legal professionals to help them when valuing the general damages portion of your settlement.
Please note these figures are only a guide. This is because several factors are considered when valuing your settlement, such as the severity of the harm you experienced and how badly it has affected your quality of life.
| Injury | Guideline Compensation Bracket | Description |
| --- | --- | --- |
| Kidney Injury (a) | £169,400 - £210,400 | Both kidneys are seriously and permanently damaged or both kidneys are lost. |
| Bladder Injury (a) | Up to £184,200 | Double incontinence including the complete loss of natural bowel and urinary function and control. There are other medical complications. |
| Bowel Injury (b) | Up to £150,110 | A complete loss of natural function as well as being dependent on a colostomy. |
| Lung Injury (a) | £100,670 - £135,920 | A young person has a serious disability where there is a risk of it becoming progressively worse and leading to an early death. |
| Lung Injury (b) | £70,030 - £97,330 | Lung cancer that causes severe pain and impacts both function and quality of life. |
You can also seek special damages, which compensate you for the financial losses you have incurred due to the harm you sustained from medical negligence. This can include travel costs, medical bills and the cost of care. In order to claim for financial losses, you must provide evidence, which can be in the form of prescriptions, receipts and bank statements.
If you need any other information on the compensation you could receive following a successful claim, get in touch on the number above.
Can I Hire A No Win No Fee Solicitor For A Liver Cancer Misdiagnosis Claim?
You may find it beneficial hiring a solicitor to represent your case. They can help you through the different stages of the claims process. For example, they can help you gather evidence and arrange for you to attend an independent medical assessment.
Our panel of No Win No Fee medical negligence solicitors could offer their services via a Conditional Fee Agreement (CFA).
The terms of this agreement generally allow you to access their services without paying any upfront or ongoing fees. There are also no fees to pay your solicitor for their services if your claim is unsuccessful.
If your claim is successful, you will pay your solicitor a small success fee. This is legally capped.
To find out whether a solicitor from our panel could represent your liver cancer misdiagnosis claim on this basis, get in touch using the details below.
Ask About Making A Medical Negligence Claim
You can contact our team of advisors for more information on your potential liver cancer misdiagnosis claim. An advisor can provide guidance on whether you're eligible to seek compensation, the steps you can take to do so and discuss anything of which you're unsure.
For more information:
Further Information About Claiming Compensation After A Misdiagnosis Of Liver Cancer
Below, you can find helpful resources.
Also, you can see more of our guides here.
Thank you for reading our guide on claiming for a liver cancer misdiagnosis. Call our advisors today for further information.
Guide by AA
Editor NM