This guide contains information about claims for wrong route medication errors. We will be sure to cover what forms medication errors in healthcare could take, examine potential compensation awards, and consider how hiring a solicitor could benefit to your case.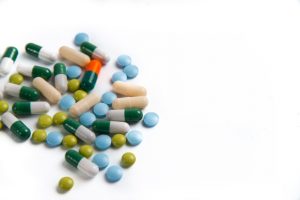 Medical professionals owe a duty of care to their patients, which means they need to prove an adequate level of care. To claim after experiencing medical negligence, you must be able to show that you were not given the correct level of care and, as a result, you suffered harm that could have been avoided.
Keep reading to find out about these subjects. You can also get in touch with our advisers to discuss the details of your claim. They may be able to put you in touch with one of the medical negligence solicitors on our panel. To reach us:
Get in touch using the Live Support box onscreen now
Call our advisers at 0800 408 7827
Send us your query using our online contact form
Choose A Section
What Are Wrong Route Medication Errors?
Wrong route medication errors can occur when an individual receives a medicine through the incorrect channel. For example, medications can be prepared for oral ingestion, intravenous injection or intramuscular injection.
If medication errors are made by nurses or doctors, and a substance is delivered via the wrong route, it could lead to a patient suffering an adverse drug reaction, such as:
A fatal or life-threatening reaction
A disabling or incapacitating reaction
A prolonged hospital stay
In some cases, medication that is administered through the wrong route may no longer be effective. This could mean that a condition you're being treated for is able to progress to the point where you need more intensive treatment or the condition cannot be treated at all.
If you have further questions about how to show a wrong route medication error has caused you avoidable harm, contact our advisers using one of the methods provided.
Why Do Medication Errors Occur?
A medication error may occur for a number of reasons. For example:
A doctor prescribes a certain medication for intravenous injection. However, the doctor does not provide a sufficient explanation about how to perform the injection, and an error in administering occurs.
A woman in labour requires multiple intravenous lines during the birth. Mislabelled or unlabelled lines could lead to a nurse injecting a medication via the epidural line that should have been administered into the vein.
If checks do not reveal an error has occurred, then medication could be administered via the wrong route, potentially leading to adverse reactions. Get in touch with our advisers if you would like to talk to someone about making a medical negligence claim for one of these causes of medication errors.
Who Is Liable for Wrong Route Medication Errors?
Delivering medication via the wrong route can be an example of a never event– this is an occurrence considered to be entirely avoidable provided that the appropriate frameworks in place are followed. Therefore, if wrong route medication errors do occur and a patient experiences avoidable harm as a result, this is an  example of medical negligence.
Asking the following questions can also help determine the presence of negligence:
Did a medical professional or institution owe me a duty of care?
Did their action or inaction constitute a breach of this duty?
Due to this breach, have I suffered physical or mental harm?
Medical professionals owe a duty of care to their patients, which means that they must provide an adequate level of care. Medication errors in hospitals and other care settings can a breach of this duty, and you may be able to claim compensation for your suffering.
How Many Medication Errors Occur Each Year In The UK?
According to research on quality and safety undertaken by the British Medical Journal (BMJ), there are an estimated 237 million medication errors annually. These can occur at different points in medical care. We have included a table using these figures below.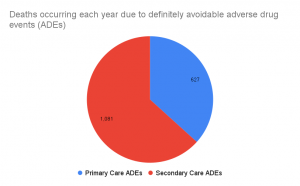 We do not have access to data stating how many of these may have been caused by wrong route medication errors. NHS annual report statistics show the average damages value for clinical claims settled with damages paid in the year 2020/21 was £311,448.
What Evidence Can Be Used For A Medical Negligence Claim?
Obtaining evidence can help prove that medical negligence took place. Good evidence includes:
A copy of your medical records, which will provide details about treatments you've undergone
Contact details for those who witnessed the incident occurring
A journal detailing the symptoms you experience after the error, including physical, mental and emotional side-effects
You can also ensure that you begin a claim within the time limits. For medical negligence claims, these limits are:
3 years from the incident
3 years from when you realise the incident occurred due to medical negligence
There are some exceptions to these limits, such as those made for children or individuals who do not have the capacity to claim. Get in touch with our advisers if you'd like to know more about evidence that could help prove a medication error claim.
Medical Negligence Claim Calculator – Potential Compensation Amounts
Wrong route medication errors could receive compensation that includes up to two heads of claim. These heads relate to two different aspects of your injury.
General damages can compensate for your pain and suffering. Rather than include a medical negligence claim calculator, we've added a table showing different compensation brackets from the Judicial College Guidelines (JCG), a document that solicitors will usually turn to when they assess a potential claim.
| Harm Sustained | Figures | Explanatory Notes |
| --- | --- | --- |
| Brain Damage (a) | £282,010 to £403,990 | Award considers degree of individual's insight, life expenctancy, physical limitations, sensory impairment, and the presence of epilepsy. |
| Brain Damage (c) (i) | £150,110 to £219,070 | Moderate to severe intellectual deficit, personality change with an effect on sight, speech and senses. Risk of epilepsy. |
| Injuries Affecting Senses (b) | In the region of £268,720 | Total blindness. |
| Kidney (a) | £169,400 to £210,400 | Serious or permanent damage to one or both of an individual's kidneys. |
| Bladder (a) | Up to £184,200 | Total loss of natural bowel and urinary function, combined with other medical complications. |
| Bladder (b) | Up to £140,660 | Complete loss of function and control. |
| Bowels (c) | In the region of £79,920 | Faecal urgency and passive incontinence causing embarassment and distress. |
| Digestive System (b) (i) | £38,430 to £52,500 | Severe toxicosis that leads to serious pain, vomiting, diarrhoea and lingering incontinence, haemorrhoids, and irritable bowel syndrome. |
| Asthma (b) | £26,290 to £43,010 | Chronic asthma leading to breathing difficulties and the need for an inhaler. Restriction of employment prospects. |
| Scarring | £2,370 to £7,830 | One noticeable scar that causes minor cosmetic impact. |
These figures are guidelines only. Your actual settlement could be different. This is because your circumstances will differ from those of other people.
Wrong Route Medication Errors – What Other Damages Could Be Claimed?
Additionally, you may receive special damages. This head of claim is intended as a way to help you recoup financial losses. For example, special damages could include:
Loss of earnings, past and future
Medical expenses, such as therapy or specialist consultations
Travel expenses incurred as a result of the avoidable harm
Contact our advisers if you have more questions about the two heads of claim that could be awarded after claiming for wrong route medication errors. They can offer advice based on your specific circumstances.
Our Panel of No Win No Fee Solicitors Could Help You
A consultation with our team of advisers is free. They can listen to your situation and may put you in touch with one of the medical negligence solicitors on our panel, who could then offer you a particular type of No Win No Fee agreement called a Conditional Fee Agreement (CFA).
When using this agreement, you generally do not have to pay for a solicitor's services if your claim fails. You also do not usually pay to begin a claim or during the claiming process. Instead, you usually only pay a small percentage of your compensation if your claim is a success. This is called a solicitor's 'success fee', and it is capped by law.
Contact Us For Free Today To See If You Can Claim
If you have questions or evidence about hospital negligence or a prescription error for example, call us and talk to an adviser about it. They may offer insight into how you can proceed with a potential medical negligence claim. To find out more:
Get in touch using the Live Support box onscreen now
Call our advisers at 0800 408 7827
Send us your query using our online contact form
Learn More About Making Claims For Wrong Route Medication Errors
Below, we've included other resources that might be useful:
Medical Misdiagnosis Compensation Claims
Care Home Medical Negligence Claims
Medication Errors In Elderly Care – Can You Claim Compensation?
Statutory Sick Pay – Government resource about receiving statutory sick pay
Medicines Information – NHS information about different medications
Freedom of Information Request – How to make an FOI request for information recorded by the NHS
We hope this article about claiming compensation after wrong route medication errors has been useful. If you have more questions, contact us using the provided details.
Writer Morgan Flick
Publisher Fern Strickland