This article discusses the topic of making a medical negligence claim after delayed breast cancer treatment caused you avoidable harm. We will be sure to cover information vital to this subject, such as how to determine if medical negligence played a role in your delayed cancer treatment and the evidence that can support your claim. We have also provided information about how a No Win No Fee solicitor could make the process of claiming easier.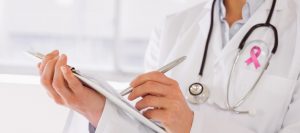 To make a medical negligence claim, you must be able to show that a medical professional breached the duty of care they owed you. This duty of care means that they need to provide the right level of care and prevent their patients from coming to avoidable harm.
Keep reading if you would like to know more. Alternatively, you can speak to our advisers and ask specific questions you may have about this topic. Reach out to us via the following methods:
Calling 0800 408 7827
Completing our contact form
Chatting to us directly through our live chat feature
Choose A Section
Can I Claim Compensation After Delayed Breast Cancer Treatment?
Breast cancer is a type of cancer that occurs most often in women over the age of 50, though it can also appear in men and younger women. The NHS states that if it is detected early enough, it can be treated before it spreads.
The treatment for breast cancer can vary. However, if treatment is delayed, it could have a negative impact on your health.
You may be able to claim if the delay in breast cancer treatment occurred due to medical negligence. This means that you did not receive the correct level of care from a medical professional, which led to an avoidable worsening of your condition or unnecessary harm.
We will discuss possible negligent reasons for delayed breast cancer treatment later in the article. If you would like to see if you could have a valid hospital negligence claim, speak with an advisor today.
What Are The Latest Medical Negligence Statistics?
In their 2020/21 annual report, the NHS Resolution recorded that £2,209 million was spent on clinical negligence claims. This figure includes the damages paid as well as claimant and NHS legal costs. The total was split across different indemnity schemes as follows:
£2,061 million on the Clinical Negligence NHS Scheme for Trusts
£62 million for Department for Health and Social Care (DHSC) clinical
£62 million for general practice indemnity
If you would like guidance on a delayed breast cancer treatment compensation claim, speak with an advisor directly.
Reasons For Delayed Cancer Treatment
Cancer treatment could be delayed for many reasons, including:
A breast scan is interpreted incorrectly. Your cancer spreads, meaning that you require more intensive treatment that could have been avoided if the scan had been read correctly
Your doctor performs a test to see how your cancer would react to certain treatments. They read the results wrong and give you hormone therapy when your cancer does not respond to this. Your condition gets worse because you initially received the wrong treatment.
A letter informing you of your surgery date was not sent to you. While you are waiting for another operation date, your cancer becomes more aggressive, meaning you now also require radiotherapy.
If you have questions about whether your circumstances make you eligible, or if you'd like to know more about how negligence in medical care is determined, call our advisers. They are available 24/7 and may be able to offer advice about how to proceed.
What Are The Steps In Making A Medical Negligence Claim?
If the circumstances of your delayed breast cancer treatment make you eligible to make a medical negligence claim, it is a good idea to collect evidence supporting your case. Some examples of the proof you can collect include:
A copy of your medical records
A diary that records your symptoms and how the delayed treatment has impacted you. This can help prove the extent of the harm you suffered, including psychological harms
Notes about the medical professionals you've seen as well as dates and locations relevant to your treatment
It is also important to make sure you start your claim before the relevant time limits have been exceeded. The standard limit is:
3 years after the date of an incident; or
3 years after you realised the avoidable harm you suffered was caused by negligence
Our advisers can help you understand more about the time limits that could apply to your potential claim. They can also offer you free legal advice about how to make a medical negligence claim.
Compensation For Delayed Breast Cancer Treatment
The effects of late breast cancer treatment could be far-reaching and have a serious impact on your quality of life. The compensation you receive is intended to reflect the severity of the suffering you experienced.
A medical negligence claim can involve up to two heads of claim, known as general damages and special damages. The first head of claim, general damages, is intended as a way to reimburse you for the pain that medical negligence has caused.
| Injury Suffered | Judicial College Guidelines Brackets | Further Notes |
| --- | --- | --- |
| General Psychological Harm | £54,830 to £115,730 | Marked problems with respect to commitments such as work and education, effect on the individual's relationships, and poor overall prognosis. |
| General Psychological Harm | £19,070 to £54,830 | Similar problems as described above, but with a much more optimistic prognosis. |
| General Psychological Harm | £5,860 to £19,070 | Marked improvement with problems listed above by the time of the trial. |
| General Psychological Harm | £1,540 to £5,860 | Award considers the length of time disability persisted for, and the extent to which sleep and activities were disrupted. |
| Scarring to Other Parts of Body | £7,830 to £22,730 | Single disfiguring scar on chest. |
| Mental Anguish | £4,670 | Fear of impending death or reduction of expected lifespan. Award will consider length of time the anguish is experienced and family life. |
The table above contains figures taken from the Judicial College Guidelines. This is the resource that many solicitors will turn to in order to assess the value of a potential claim. We've included this table as a set of guidelines, as your compensation could differ.
Special damages may also be included in your claim. They can be a means of reimbursing you for the financial losses you've suffered as a result of medical negligence. For example, they could include:
Lost earnings
Lost future earnings
Costs associated with care and assistance
Parking and mileage expenses incurred travelling to hospital appointments
These are only a few of the financial losses that you could receive through special damages. If you would like to know more, contact our advisers. They can offer insight into the negligence payout you may be able to claim following late breast cancer treatment caused by a breach of duty of care.
What Fees Could A No Win No Fee Solicitor Charge?
Employing the services of a solicitor could help you navigate the complexities of medical negligence law. If you contact our advisers and they feel your claim is valid, they may put you in touch with one of the No Win No Fee medical solicitors on our panel. In turn, these solicitors may offer you a funding arrangement called a Conditional Fee Agreement (CFA).
A CFA is a type of No Win No Fee agreement, and it means that you generally do not have to pay for the solicitor's services if your claim fails. You also usually won't have to pay for their services before the claim has started or in the middle of the process.
Instead, your solicitor will take a 'success fee'. This is a small percentage deducted from your compensation if your claim succeeds. Additionally, this amount is subject to a legal cap.
Speak To Us About A Late Treatment Claim
To learn more about making a claim for avoidable harm you suffered due to delayed breast cancer treatment, call us today. This consultation is free and our advisers are available 24/7 with advice about your potential No Win No Fee hospital negligence claim. Contact us by:
Phoning 0800 408 7827
Completing our contact form
Chatting to us directly through our live chat feature
Further Information About Delayed Breast Cancer Treatment Claims
Below we've added several more resources that may be helpful:
Hospital-Acquired Infection Compensation Claims
How To Claim After A Pharmacy Dispensing Error
Medication Dosage Errors – Can I Claim Compensation?
Report A Concern To The Care Quality Commission
We hope this article has provided guidance about claiming for a delayed breast cancer treatment. If you have further questions, you can get in touch with our advisers using the provided contact details.
Writer Morgan Flick
Publisher Fern Strickland