In this guide, we'll discuss whether you could claim compensation after a failure to diagnose lung cancer. If your medical condition became worse over time or you were injured or made ill because of medical negligence resulting in a misdiagnosis, you might be able to claim compensation.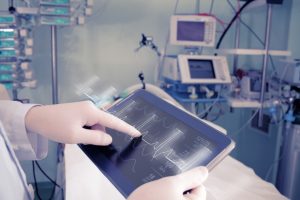 When you seek medical care, those who treat you must provide you with care of the right standard. Failure to do so could cause unnecessary or avoidable harm. Further down in this guide, we'll explore what medical negligence can look like and how you could be affected. 
To see if you have a valid claim, you can use the following contact information to get in touch with us:
Call us on 0800 408 7827

Chat with us using our live chat feature 

Enter your details into our

contact us

page for a callback.
Choose A Section
Can I Get Compensation After A Doctor's Failure To Diagnose Lung Cancer?
Medical negligence is where a medical professional breaches the duty of care that they owe a patient, causing them avoidable harm. There is no one piece of legislation that outlines a medical professional's duty of care; standards are set out by regulatory bodies. For example, the duties of a doctor are set out by the General Medical Council.
Possible examples of medical negligence include, but aren't limited to, errors made during surgery, medical misdiagnosis, and unnecessary medical treatment.  Misdiagnosis could cause other complications, such as delayed treatment.
However, not all instances of complications in medical care will be grounds for a claim. In some cases, your condition could worsen because of something like a misdiagnosis, but this happened despite your doctor delivering the right standard of care, you'd be unable to claim. 
Further down in this guide, we'll explore what compensation you could be entitled to following a successful claim and the steps you must follow to make one. If you have any questions about claiming, speak with an advisor today. 
Current Statistics For Medical Negligence
In the latest available data, clinical negligence totalled £2,209 million in the 2020/21 period. These statistics were taken from the 2021 NHS Resolution Annual Report. Of this total:
Clinical negligence scheme for trusts paid £2,061 million

General practice indemnity paid out £62 million
There were 15,674 clinical and non-clinical claims settled in 2020/21, which was 124 more than in 2019/20.
Reasons For Not Diagnosing Cancer
There are a number of reasons cancer could be misdiagnosed. For example:
Your doctor does not listen to the symptoms that you're saying you're suffering from, despite them clearly indicating cancer. Because of this, they fail to send you for diagnostic tests.
Because of a lapse of memory, your GP fails to diagnose cancer as they do not realise that your symptoms indicate lung cancer. This means that they diagnose you with a chest infection and your lung cancer is untreated.
You go for a diagnostic test but the technician performs it incorrectly. This means that your cancer is not diagnosed.
The results of your diagnostic test are incorrectly labelled with the name of another patient. As a result, you receive their diagnosis and the hospital fails to diagnose your cancer.
The misdiagnosis of cancer can have a serious impact on the patient's quality of life. For instance, someone who may have only required a short round of chemotherapy if the disease was caught in a timely manner might need more intensive treatment if the diagnosis was delayed. In some cases, it could result in a death.
For guidance on the process of claiming compensation for harm caused by a failure to diagnose lung cancer, speak with our team. They could also assess your claim's value.
How Do I Make A Late Diagnosis Claim?
If you have received an incorrect diagnosis, it's important that you seek medical attention. This will enable you to get the treatment you need. 
Gathering evidence is an important factor when making a medical negligence claim. This could include gathering witness details for statements, requesting your medical records and keeping a diary of your symptoms and how you've been affected. If you have made a complaint about the treatment you received, then the response could be supplied as evidence too. 
You can find out more about how to make a medical negligence claim by contacting us using the information above. 
Compensation For A Doctor's Failure To Diagnose Lung Cancer
You may be wondering how to calculate hospital negligence payouts following a failure to diagnose lung cancer. General damages compensation is one of the heads of claim that you could be awarded in a successful claim. It aims to compensate you for any avoidable pain or suffering you have experienced as a result of medical negligence. Solicitors refer to the Judicial College Guidelines to help assign a value to your claim.
Injury
Compensation
Notes
Kidney
£169,400 to £210,400

(a) Serious permanent damage to both kidneys.
Kidney
£30,770 to £44,880
(c) Loss of one kidney with no damage to the other
Bowels
Up to
£150,110

(b) Total loss of natural function.
Bowels
£44,590 to £69,730
(d) Severe abdominal injury causing an impairment of function and necessitating colostomy.
Bladder
Up to
£140,660

(b) Total function/control loss
Lung Disease
£100,670 to £135,920
(a) For a young person with a serious disability where there is a possibility of disease leading to death
Lung Disease
£70,030 to £97,330
(b) Lung cancer causing severe pain and impairment of function and quality of life.
Lung Disease
£54,830 to £70,030
(c) Disease causing significant and worsening lung function
Brain
£43,060 to £90,720
(c) Moderate (iii): Cases where concentration and memory are affected, and ability to work is reduced.
Spleen
£20,800 to £26,290
(a) Loss of spleen where there is a continuing risk of internal infection and disorders.
It's important to note that these figures aren't guaranteed. This is due to the many different variables that are considered when valuing general damages.
Furthermore, you could also be awarded special damages as part of a settlement. This head of claim compensates you for the financial losses caused. For example, if you need to attend regular appointments because of your worsened condition, then the travel costs associated with this could be reimbursed through special damages.
When Could I Start A No Win No Fee Claim? 
A Conditional Fee agreement is a kind of No Win No Fee agreement that could financially benefit you if you choose to work with a solicitor. With this kind of agreement, you'll generally be able to access the services of a lawyer without any upfront or ongoing fees. 
Furthermore, if your claim is not a success, you generally don't pay them at all. A success fee will be deducted from your settlement if you're awarded compensation; this will be legally limited.
You can contact us for free to get a consultation in regard to your claim after a failure to diagnose lung cancer. Providing you have a valid claim, our experienced panel of solicitors would be happy to help you to the best of their ability. 
Chat About A Late Diagnosis Claim
If you have more questions about the process of claiming after a doctor's failure to diagnose lung cancer, or want to begin your claim, then you can use the following contact information to discuss this further with our advisors. Providing you have a valid case, then in one phone call, you could be put in touch with one of the No Win No Fee solicitors from our panel.
Get in touch with us by:
Call us on 0800 408 7827

Chat with us using our live chat feature 

Enter your details into our

contact us

page for a callback.
Further Information About Claiming After A Doctor's Failure To Diagnose Lung Cancer
If you'd like to learn more about making a claim after a failure to diagnose lung cancer, then you can read some more of our guides below:
Alternatively, you can read more by following the external links below:
Writer
Publisher