This guide will discuss the process of making a claim for compensation after a thyroid cancer misdiagnosis. When incidents of misdiagnosis occur, you may go without the treatment you need or receive the wrong treatment, resulting in further and unnecessary harm. In some cases, you may be able to seek medical negligence compensation. We will explore the criteria your claim must meet in more detail throughout this guide.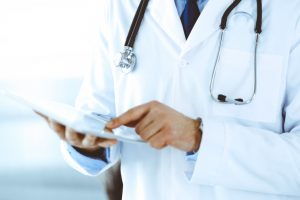 This guide will also explore how a misdiagnosis of cancer can occur and the harm that could be sustained as a result.
Furthermore, we will explain the steps you can take to make a medical negligence claim, including what evidence you can supply to strengthen your case.
Additionally, you can see examples of compensation payouts that could potentially be awarded after making a successful claim and how your settlement may be calculated.
Our advisors are available 24/7 to provide you with free legal advice and assist you in starting the claims process. To contact our team, you can:
Choose A Section
Can I Claim Compensation For A Thyroid Cancer Misdiagnosis?
The NHS describes thyroid cancer as a rare type of cancer affecting the thyroid gland. It is usually treatable but can sometimes return after treatment. Symptoms can include:
A sore throat

Difficulty swallowing

A painless lump forming in the front of the neck 

Unexplained hoarseness.
Thyroid cancer can sometimes spread to other parts of the body.
If cancer is misdiagnosed, it can cause a patient unnecessary harm. However, not all instances of a thyroid cancer misdiagnosis will form the basis of a valid claim. You must prove that medical negligence occurred. This involves a medical professional failing to provide you with care that meets the correct standard resulting in you experiencing avoidable harm.
There are different reasons why this standard of care may not be met leading to a misdiagnosis or an incident in which a medical professional failed to diagnose cancer. We have explored examples of these in the sections below.
What Are The Latest Statistics For Cancer Negligence?
As per the NHS Key Statistics: England for November 2022,  we can gain an insight into statistics for cancer patients. 
In March 2020, around 11,000 patients waited over 62 days for cancer treatment after an urgent GP referral. By May of the same year, this number rose to 34,000 patients.
However, it is important to note that the pandemic influenced the waiting times and by December 2020, the number of patients waiting more than 62 days for treatment fell to 16,000.
How A Thyroid Cancer Misdiagnosis Could Happen
All medical professionals owe their patients a duty of care. This means they must provide you with care that meets the correct standard. The steps they are required to take to uphold their duty of care will depend on the area of medicine they practice. For example, General Medical Council provides guidance on good medical practice for doctors, whilst the Royal College of Nursing sets out the duty of care for nurses. 
A failure to uphold their duty of care could lead to a patient sustaining avoidable harm. Examples of how a thyroid cancer misdiagnosis could occur include:
You are sent for tests that are often performed to detect signs of cancer but your test results are interpreted incorrectly. This can result in you being misdiagnosed for the wrong condition and

receiving the wrong treatment

.

Doctor negligence

could mean they fail to send you for further tests despite you exhibiting signs of cancer, diagnosing you with a different condition.

This can lead to a

delay in treatment

and correct diagnosis.
It can help to provide evidence to support your potential medical misdiagnosis claim. We have provided further guidance on this in the section below. Alternatively, you can contact our advisors to discuss your eligibility to claim.
What Evidence Could Prove A Misdiagnosis Of Thyroid Cancer?
You can provide evidence in order to prove that medical negligence was the cause of your thyroid cancer misdiagnosis. Types of evidence might include:
Reports from a doctor

Hospital reports

Prescriptions

An independent medical report from an assessment that you may be invited to attend as part of the claims process.
You must also ensure that you start your claim within the three-year time limit set out in the Limitation Act 1980. This means that you must start the claims process within three years of the incident or three years from the date you learned of medical negligence.
Our advisors can offer you free legal advice to help you with any aspect of your claim. Contact our team today for further support.
Potential Compensation For A Misdiagnosis Of Thyroid Cancer
When seeking medical negligence compensation, you can receive general and special damages. General damages aim to compensate you for the pain and suffering you endured due to medical negligence. This covers physical and psychological harm and its impact on your life.
Special damages cover the financial losses you suffered as a result of medical negligence. For instance, lost wages, travel expenses and care costs incurred due to the avoidable harm you experienced. Evidence can help support these losses, such as receipts and payslips.
Solicitors often use the Judicial College Guidelines (JCG) to assist them in valuing general damages in medical negligence claims. The compensation brackets provided in this publication are a guideline and will not determine the exact payout you will receive at the end of your claim. As such, you should only use the table below, which includes figures from the JCG, as a guide.
| Type of Harm | Compensation | Notes |
| --- | --- | --- |
| Neck (a) Severe (i) | In the region of £148,330 | Permanent spastic quadriparesis. |
| Neck (a) Severe (ii) | £65,740 - £130,930 | Damage to the discs in the cervical spine. |
| Back (a) Severe (i) | £91,090 - £160,980 | Damage to spinal cord and nerve roots. |
| Back (a) Severe (ii) | £74,160 - £88,430 | Nerve root damage with several symptoms, such as loss of sensation. |
| Lung Disease (a) | £100,670 - £135,920 | Lung disease in a younger person causing serious disability and the risk of an early death due to the condition worsening. |
| Lung Disease (b) | £70,030 - £97,330 | Lung cancer is an older person causing quality of life and function to be impaired as well as severe pain. |
| Lung Disease (c) | £54,830 - £70,030 | Lung function worsens significantly. |
Alternatively, you can contact our advisors for a personalised compensation estimation.
Can I Use A No Win No Fee Solicitor To Make A Thyroid Cancer Misdiagnosis Claim?
Our solicitors can work with you under a Conditional Fee Agreement (CFA), which is a type of No Win No Fee agreement. These terms allow you access to a solicitor's services without paying them an upfront or ongoing fee for the work they complete on your claim.
You're expected to pay a success fee in the event that your claim is successful. This success fee is paid from your settlement total at a legally capped rate to ensure that you keep the majority of the award. 
If your case is valid, you can connect with one of our No Win No Fee solicitors to potentially represent your thyroid cancer misdiagnosis claim. See below for how you can contact our team today.
Ask About Making A Thyroid Cancer Misdiagnosis Claim
If you have further questions about making a thyroid cancer misdiagnosis claim, our advisors are available to help at any time that suits you. Our team can also help you start the claims process to seek compensation. You can contact us by:
Calling

0800 408 7827

Messaging an advisor through the live chat

Completing the

contact

form to request a callback
Further Information About Claiming Compensation After A Misdiagnosis Of Thyroid Cancer
Please find additional external resources below:
You can find more of our guides by following the links below.
Thank you for reading our thyroid cancer misdiagnosis guide. Contact our advisors today if you require any further support.
Guide by AA
Editor NM