This is a guide on seeking compensation after receiving a delayed bowel cancer diagnosis. The following sections contain information that may be important for making a claim for medical negligence. For example, we will discuss the circumstances that make you eligible to begin a claim, the time limits you may have to adhere to, and the evidence that could be useful.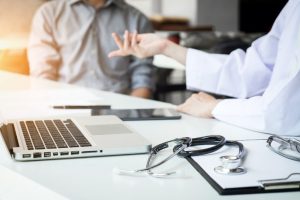 We will also explain the benefits that medical negligence lawyers could bring to the process of claiming compensation. For example, they may be able to help you gather evidence to back up your claim. They could also help you present a complete and full case.
Read on to learn more about these topics. You could also call our advisers to discuss your potential claim. Our team is available 24 hours a day, 7 days a week, so please don't hesitate to contact us at a time most convenient for you. This legal consultation is free, so get in touch with us by:
Choose A Section
Can I Claim Compensation After A Delayed Bowel Cancer Diagnosis?
You may be able to claim for a delayed bowel cancer diagnosis, if you can prove negligence occurred.
All medical professionals owe their patients a duty of care. This includes doctors, nurses, pharmacists, diagnosticians, and others. The duty of care these individuals must uphold is to provide their patients with an adequate standard of care. If a patient is not given the correct standard of care, they could be harmed unnecessarily. If this happens, it is known as medical negligence.
To claim compensation after receiving a delayed cancer diagnosis, you must be able to provide clear evidence that a medical professional breaching the duty of care they owed contributed to the delay. Contact our advisers to discuss the possibility of seeking medical negligence compensation.
The Latest Medical Negligence Statistics
The NHS Resolution is an arm's length body of the UK Department of Health and Social Care (DHSC). Its role is to help resolve concerns and disputes. In 2020/21, it recorded:
15,078 new claims notified
13,070 new claims settled
Reasons To Make A Medical Negligence Claim
Medical negligence compensation is intended as a way to reimburse you for the pain and suffering you experienced as a result of the avoidable harm caused by receiving care that fell below the correct standard. Therefore, it may be worth beginning a claim when you have suffered a form of harm that could have been avoided if you'd received the correct level of care.
Examples of how a medical professional could breach their duty of care leading to a delayed bowel cancer diagnosis could include:
A diagnostician mixes up two sets of test results, meaning that you are incorrectly diagnosed with a different condition. As a result, the cancer you have continues to worsen due to the delay in receiving a correct diagnosis and you may undergo unnecessary medical treatment.
A doctor ignores your symptoms and fails to refer you for further tests. As a result, it takes several months to receive a cancer diagnosis, in which time the cancer spreads to your lungs and liver.
Speak to our advisers to learn more about delayed diagnosis and medical misdiagnosis compensation claims. They can listen to your circumstances and offer free legal advice about the best way to proceed.
How Do I Begin A Medical Negligence Claim?
There are a few steps you can take right away if you are considering making a medical negligence claim. First, you can begin to gather evidence that shows how a medical professional did not provide you with the correct level of care. You could:
Request a copy of your medical records
Keep a journal recording the various symptoms you experience. This could include the psychological impact of your delayed bowel cancer diagnosis
It is also important to begin your claim within the given medical negligence time limit. This is generally within 3 years of the date the incident occurred, or within 3 years of connecting the harm you sustained to an incident of medical negligence.
Contact our team of advisers to learn more about how to make a medical negligence claim. They can tell you more about delayed diagnosis compensation.
Compensation After A Delayed Bowel Cancer Diagnosis
The payout you receive after making a successful medical negligence can include up to two heads of claim, known as general damages and special damages.
The first head of claim, general damages. is intended as a way to compensate you for the physical and mental pain you experienced due to the incident of medical negligence. When assessing general damages, a medical negligence solicitor can consult the Judicial College Guidelines (JCG), which is a document that contains various compensation brackets for different types of harm an individual could experience.
We've included a table below containing some of the JCG brackets that may be relevant to your circumstances, but this table is intended only as a set of guidelines.
| Type of Harm | Compensation Brackets | Further Information |
| --- | --- | --- |
| Bowels | Up to £184,200 | Cases involving double incontinence. This includes complete loss of natural bowel function as well as urinary function and control. There will also be other medical complications. |
| Bowels | Up to £150,110 | A complete loss of natural function and a dependence on colostomy. This depends on age. |
| Bowels | In the region of £79,920 | Passive incontinence and faecal urgency that persist after surgery and cause the person distress and embarrassment. |
| Lung Disease | £100,670 to £135,920 | A young person with a serious disability where the probability of progressive worsening is present and could lead to a premature death. |
| Lung Disease | £70,030 to £97,330 | Lung cancer, usually in an older person, creating an impact on quality of life and function and causing severe pain. |
Additionally, your claim could include a second head of claim known as special damages. These are intended as a way to help you recoup the financial losses you sustained as a direct result of medical negligence. For example, this could include wages lost because you could not attend work, medications you had to buy, and the travel expenses you incurred while getting to and from medical appointments.
The overall settlement you receive will be unique according to your circumstances. As such, it is worth speaking to our advisers about the medical negligence compensation you might receive, as specific details may influence how much your claim could be worth.
Do I Need A No Win No Fee Lawyer?
You are not required to hire a solicitor to begin a delayed bowel cancer diagnosis claim. However, they can provide a number of valuable services that could save you time and effort. For example, if you choose to hire a solicitor with experience handling claims similar to your own, it could help when going through the different stages of the claims process.
The medical solicitors on our panel may be able to offer you a kind of No Win No Fee agreement called a Conditional Fee Agreement (CFA). By using this agreement, you generally don't have to pay for the solicitor's services if your claim fails. Usually, you also don't have to pay for these services upfront or while the claim is ongoing.
Instead, your solicitor will likely take a success fee after the claiming process concludes, but only if your claim is successful and you are awarded compensation. This success fee is legally capped.
Ask About A Delayed Bowel Cancer Diagnosis Claim
For advice and guidance about claiming compensation following an issue with a cancer diagnosis, such as a cancer misdiagnosis or a scenario in which a medical professional failed to diagnose cancer, speak to our advisers. They can offer you a free consultation that you can use to discuss any aspect of a claim that you wish. Find out more today by:
Further Information About A Delayed Bowel Cancer Diagnosis Claim
More guides related to medical negligence claims:
Information from third parties that could be useful:
Good Medical Practice – Information from the General Medical Council (GMC) about good medical practice for a doctor.
NHS Constitution – Government resource about the principles and values of the NHS for England.
Bowel Cancer – Cancer Research UK resource providing information on bowel cancer.
We hope this guide has provided useful information about making a claim for a delayed bowel cancer diagnosis. If you'd like to discuss your personal circumstances with an adviser, you can easily contact us using the details provided.
Guide by NF
Editor NM