If your breast cancer was misdiagnosed by a healthcare professional, you might be eligible to claim compensation for medical negligence. This article contains information that could help you determine when medical negligence has occurred and how much compensation you might receive.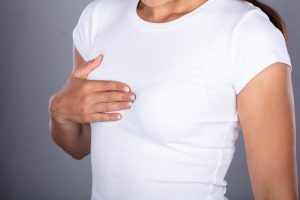 Receiving a medical misdiagnosis will not always form the basis for a valid claim. However, if it happened because a medical professional provided you with an inadequate level of care that caused avoidable harm, you may be able to seek compensation. We will provide details about the evidence that may help support your claim.
Keep reading to learn more about making a medical negligence claim. Additionally, you can contact our advisers to ask any questions you may have about your claim's validity. You can reach our team at any time of the day or night, seven days a week. Speak to us by:
Calling 0800 408 7827 to talk to an adviser
Filling in our contact form to request a callback
Speaking to a member of the team using the chatbox below
Choose A Section
Could I Claim Compensation After Having Breast Cancer Misdiagnosed?
In order to receive compensation for your breast cancer being misdiagnosed, you must be able to show that the medical professional was negligent. All medical professionals owe their patients a duty of care; medical negligence occurs when a healthcare professional breaches this duty of care, causing you to suffer harm that could have been avoided if the correct care was administered.
Generally, you can begin to establish whether you have a valid claim by asking yourself three questions:
Did a medical professional owe me a duty of care? This is automatically the case when you're being treated.
Did I receive a standard of care below the correct level, meaning this duty was breached?
Were you caused physical or mental harm that could have been avoided if the correct care was given.
Later in the article, we will discuss some of the evidence that could help demonstrate these three criteria are true of your circumstances. A medical negligence solicitor could also help you gather evidence. Contact our advisers if you would like free legal advice about claiming if your breast cancer was misdiagnosed.
Reported Misdiagnosis Statistics
For the 2020/21 year, the NHS Resolution reported the following statistics regarding clinical negligence:
£2,061 million paid out to cover claims made against the Clinical Negligence Scheme for NHS Trusts
£23 million paid out for the Existing Liabilities Scheme, which provides GP cover for liabilities occurring before 1 April 2019
£62 million paid out for General Practice Indemnity Scheme, which provides GP cover for liabilities occurring after 1 April 2019
These figures represent the value of payments made for all successful clinical negligence claims brought against the NHS in 2020/21. These figures cover payments to the claimant as well as legal costs.
Reasons Why A Misdiagnosis Could Happen
It is important to note that not all misdiagnoses will be an example of medical negligence. You must be able to show that your breast cancer misdiagnosis stemmed from receiving a substandard level of care from a medical professional.
Below, we have included some examples of how cancer could be misdiagnosed:
A technician labels test results incorrectly. This could mean you are given an erroneous all-clear for breast cancer, consequently leading to delayed treatment for your condition.
A GP fails to perform a breast exam after you report finding lumps. If your GP fails to diagnose cancer or send you for additional tests at this stage, your condition could eventually progress.
A doctor misinterprets a set of scan results, leading them to believe that the lumps in your breast are cysts instead of tumours. This delayed diagnosis could allow the cancer to spread into your lungs or brain.
Contact our advisers if you'd like to discuss the circumstances in which your breast cancer was misdiagnosed. Our team can talk to you about the actions you can take to make a medical negligence claim.
How Do I Start A Misdiagnosis Claim?
Another key point to bear in mind is that you must begin a claim for breast cancer that was misdiagnosed by a medical professional within the legal time limits. For medical negligence, this means claiming:
Within 3 years of the date the harm occurred
Within 3 years of you connecting the harm you experienced to a breach of duty of care
In some cases, exceptions can apply to these time limits. If you get in touch with our team, they can explain these to you; in addition to this, they can let you know what the time limit is for you to begin your claim.
Another step you can take to begin a claim for misdiagnosis is to begin gathering evidence. For example, you could:
Request a copy of your medical records
Keep a journal recording the symptoms you experience
Take notes of any purchases you have to make or financial losses you experience as a result of the harm you experienced
It could be worth contacting our advisers to discuss evidence that could benefit your potential claim. They can help you understand more about claiming for delayed breast cancer treatment or an overall failure to treat cancer.
Compensation For Having Breast Cancer Misdiagnosed
Medical negligence compensation can include up to two heads of claim: general damages and special damages. General damages relate to your pain and suffering.
Medical negligence lawyers will usually turn to the Judicial College Guidelines (JCG) while evaluating how much a potential claim could receive in general damages. This document contains compensation brackets for different types of harm and injury. We have included a table below showing some of these brackets. These figures are guidelines only.
| Avoidable Harm Caused | JCG Compensation Bracket | Further Notes |
| --- | --- | --- |
| Injury Caused By Brain Damage (Moderate) (c) (ii) | £90,720 to £150,110 | Moderate to modest deficit in intellect with work ability to greatly decreased. Some risk of experiencing epilepsy. |
| Lung Disease | £100,670 to £135,920 | Young person with serious disability with probability of worsening condition leading to premature death. |
| Lung Disease | £70,030 to £97,330 | Typically an older person with lung cancer causing severe pain and decreased quality of life. |
| Psychiatric Damage (Moderately Severe) | £19,070 to £54,830 | Individual experiences significant problems with the markers listed above, though the prognosis is somewhat better than in more serious cases. |
| Scarring To Other Body Parts | £7,830 to £22,730 | A number of disfiguring scars to the chest. |
| Scarring To Other Body Parts | £2,370 to £7,830 | Single disfiguring scar to the chest. |
In addition to general damages, your compensation could benefit from a second head of claim known as special damages. These are intended to help you recoup financial losses incurred due to the harm you suffered. For example, they could help you reclaim:
The price of medications and consultations
Lost earnings, past and future
Travel expenses incurred getting to and from medical appointments
Speak to one of our advisers about misdiagnosed breast cancer compensation. This consultation is free and there is no obligation to continue using our services after it concludes.
Is A No Win No Fee Agreement Necessary?
Although you do not need to hire a lawyer to begin a claim, it may benefit your case to do so. If a hospital failed to diagnose cancer because of a breach of duty, a medical negligence solicitor could help you put together your claim for compensation.
Additionally, one of the No Win No Fee medical solicitors on our panel may be able to offer you a kind of No Win No Fee agreement known as a Conditional Fee Agreement (CFA). Under the terms of this agreement, you would not generally have to pay for the solicitor's work if your claim fails. You also won't have to pay their service fees upfront in order to begin the claim.
Instead, if your claim is successful, the solicitor would take a success fee. This amount is subject to a legislative cap, ensuring you get the majority of your settlement.
Start A Claim After Having Breast Cancer Misdiagnosed
Learn more about the merits of your potential claim by getting in touch with our team of advisers. Above all else, they can offer valuable insight about whether medical negligence was the cause of your breast cancer being misdiagnosed. Contact us today by:
Calling 0800 408 7827 to talk to an adviser
Filling in our contact form to request a callback
Speaking to a member of the team using the chatbox below
Further Information About Having Breast Cancer Misdiagnosed
Other medical negligence articles that may be of use:
GP and Doctor Negligence Compensation Claims – A Medical Negligence Law Guide
Can I Sue A Hospital For Negligence?
I Had A Myeloma Misdiagnosis, How Do I Claim Compensation?
Third-party resources with information that may be of use:
Good Medical Practice – The General Medical Council's guidance on good medical practice for doctors
Cancer Symptoms – Information about breast cancer symptoms from Cancer Research UK
NHS Constitution for England – Government resource explaining the rights of patients, staff and members of the public who seek care from the NHS
Thank you for reading this article about claiming compensation for breast cancer that was misdiagnosed. If you have further questions on this topic, please don't hesitate to contact our team.
Guide by NF
Editor  NS