If you have suffered avoidable harm as a result of retained placenta negligence, you may wonder if you could seek compensation. In this guide, we will explore the eligibility criteria that needs to be met in order to put forward a medical negligence claim as well as the evidence you'll require to support your case.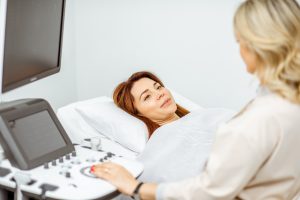 Additionally, we will discuss the duty of care owed to patients in a medical setting and the ways a breach of this could lead to them sustaining unnecessary harm.
You'll also learn about typical birth injury compensation amounts in medical negligence claims and what you could receive as part of your settlement if your claim succeeds.
Additionally, we'll highlight the benefits of hiring medical negligence solicitors to help you during the hospital negligence claims process. 
You can get in touch with an advisor if you have any other questions. They can offer advice regarding your potential claim and assess whether a solicitor from our panel could work your claim on a No Win No Fee basis. To reach them, you can:
Call at any time on

0800 408 7827

Fill out

our

contact

form to request a call-back

Use our live chat function for a fast response
Browse Our Guide
What Is The Eligibility Criteria When Claiming For Retained Placenta Negligence? 
In order to claim compensation following retained placenta negligence, your case must meet the eligibility criteria. This means you must be able to prove the following:
You were owed a duty of care by a medical professional,
A medical professional breached this duty of care,
You experienced harm that could have been avoided had the duty of care been upheld. This is known as medical negligence, for which a claim could be made.
Every healthcare professional has a duty to provide a minimum standard of care. The ways in which this duty needs to be upheld will differ depending on the area of medicine a medical professional specialises in. For example, doctors can follow the ethical guidance laid out by the General Medical Council (GMC), whilst the Nursing and Midwifery Council (NMC) sets the professional standards of practice and behaviour for nurses, nursing associates and midwives.
A failure to uphold this duty could mean you experience avoidable harm.
What Is The Time Limit When Seeking Birth Injury Compensation? 
If you seek birth injury compensation, you'll need to ensure that you start a claim within three years from the date of medical negligence. Alternatively, you have three years from the date of knowledge, which is the date you became aware that medical negligence occurred. This is outlined in the Limitation Act 1980. 
However, there are some exceptions to the time limit. To find out whether these could apply to your specific situation, get in touch on the number above. An advisor can also provide more information on when you could be eligible to seek medical negligence compensation for the impact the harm has had on your overall quality of life.
How Could Retained Placenta Negligence Happen?
Retained placenta involves part of the placenta or membranes remaining in the womb after a baby is born. If it is left untreated, it could cause bleeding that can be life-threatening.
There are several ways in which retained placenta negligence could happen. For example:
A midwife may fail to identify that a patient has not passed the placenta after giving birth. As a result, they experience severe blood loss and require a hysterectomy which leads to future infertility.
A patient may not have passed the placenta after birth meaning they require a procedure to manually remove it. The patient develops an infection due to the correct protocols not being carried out while the procedure is performed.
If you sustained unnecessary harm in a medical setting, speak to our advisors for advice on what steps you should take. They can assess whether you could be eligible to seek compensation.
Evidence That Could Be Used When Claiming For Hospital Negligence
As part of the medical negligence claims process, you should gather evidence to prove that a medical professional provided a substandard level of care and this caused you avoidable harm. To gather sufficient and relevant evidence to support your claim, you can:
Keep a diary detailing your treatment and symptoms to illustrate your physical or mental state after you were sustained harm.

Request a copy of your

medical records

as they can provide details about the diagnosis and treatment you received.

A medical report from an independent medical expert can highlight the extent of the harm you experienced and how this has impacted your life.
Our advisors are available 24/7 to answer your questions and can give you free no obligation advice about the claims process. Additionally, if you would like a solicitor to help you collect evidence, an advisor could connect you with our panel of hospital negligence solicitors.
What Compensation Could You Receive From Birth Injury Claims?
Medical negligence settlements are typically divided into two heads of claim. Firstly, general damages are awarded to compensate for the pain or suffering, both physical and psychological, caused by retained placenta negligence. 
We have taken figures from the Judicial College Guidelines (JCG) to create the table below. The JCG is used by legal professionals to assist them when valuing general damages.
Please note that the guideline compensation amounts are not necessarily reflective of what you will receive as part of your hospital negligence payout. As such, you should only use them as a guide.
| Type of Harm | Guideline Compensation Amounts | Notes |
| --- | --- | --- |
| Reproductive System: Female (a) | £114,900 to £170,280 | Infertility caused by injury or disease. There is also sexual dysfunction, a psychological impact, pain and scarring. |
| Reproductive System: Female (b) | £43,010 to £102,100 | Cases where there has been significant medical complications. |
| Reproductive System: Female (c) | £56,080 to £71,350 | Infertility without any aggravating features. |
| Reproductive System: Female (d) | £6,610 to £18,680 | Infertility affecting a person who would not have had any children due to their age. |
Claiming For Financial Losses After Suffering From Hospital Negligence 
Another head of claim that you may receive as part of your settlement is special damages. These relate to any financial losses or expenses incurred as a direct result of retained placenta negligence. As such, special damages can be awarded to cover:
Prescription costs – you may need to pay for medication to alleviate symptoms of the harm you experienced. A receipt of your prescription can prove this expense. 

Travel expenses – ongoing visits to the hospital may result in you spending money on travel by car, taxi, bus or train. You can keep hold of any travel tickets as evidence.

Loss of earnings – if the harm results in you needing time off work to recover, you may suffer a loss of earnings. A wage slip can prove this loss. 
An advisor could assess your case and provide an accurate estimate of what you could receive after succeeding with your claim. Get in touch for more information on medical negligence compensation.
Make Birth Injury Claims Using A No Win No Fee Solicitor From Our Panel 
When claiming for retained placenta negligence, a No Win No Fee solicitor could help you. They can help you with the different aspects of the claims process including gathering evidence and ensuring you put forward your claim in full.
Additionally, they could offer their services under a Conditional Fee Agreement which is a type of No Win No Fee contract. It typically allows you to access their services without paying upfront or while your claim is ongoing. Additionally, there is usually no requirement to pay them for the work completed on your claim if it does not succeed.
Should your claim succeed, your solicitor will take a success fee from your compensation. This is subject to a cap which the Conditional Fee Agreements Order 2013 sets.
Our panel of No Win No Fee medical negligence solicitors have years of experience in helping clients through the birth injury claims process. Get in touch for a free consultation at any time and our advisors could connect you, provided your case is valid and has a chance of success. To get in touch, you can:
Call on

0800 408 7827

Use our live chat feature for an instant response

Complete

our

contact

form for a free call back
Learn More About Retained Placenta Negligence Claims
Please find more of our guides relating to medical negligence claims below:
Additionally, you might be interesting in the following resources:
MASIC

– Get support from the MASIC Foundation following an injury from childbirth. 

NMC – Standards for midwives
GMC – Raising a concern as a member of the public
We hope this guide on when you could claim following retained placenta negligence has helped. If you have any other questions, please get in touch using the details provided above.
Guide by SS
Editor NM